Dearborn's fight to shed its also-ran image got a boost when the Mach 1 moved into the starting gate. Here was a Mustang that looked the part of a modern pony muscle car, and in 1969 Ford Mustang Mach 1 428 Cobra Jet livery, it ran like one.
Mustang was restyled for '69, gaining 3.8 inches of body length -- all ahead of the front wheels -- and about 140 pounds of curb weight. The flowing lines looked right in new Mach 1 livery. This was the mainstream performance version. It came standard with a 351-cid V-8, but star of the stable was the optional 428-cid Cobra Jet.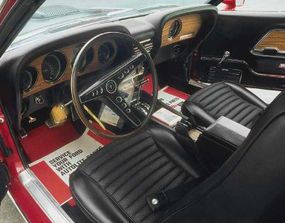 ©2007 Publications International, Ltd. Standard bucket seats, three-spoke wheel with "rim-blow" horn,and woodgrain trim made for a sporty cabin.
Essentially the same V-8 that put Ford muscle on the map in the 1968 1/2 Cobra Jet Mustang, it came in three states of tune for '69. The base version without Ram Air cost $224; $133 more bought the fresh-air induction system, which this year used a new "shaker" hood in which a scoop mounted to the air cleaner protruded through a hole in the hood and vibrated ominously with the engine.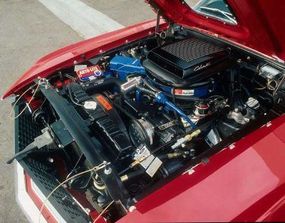 ©2007 Publications International, Ltd. Top engine was the 428-cid Cobra Jet, here with the extra-cost ram-air shakerscoop that stuck up through the hood and trembled along with the 335-bhp V-8.
A third version triggered by the $155 Drag-Pack option was the 428 Super Cobra Jet Ram Air. It used the shaker scoop, plus a modified crankshaft and stronger connecting rods for better high-rpm durability, as well as an engineoil cooler that decreased lubricant temperature by 30 degrees. The Drag Pack came with limited-slip 3.91:1 or 4.30:1 cogs and excluded air conditioning. All versions used a four-speed or Ford's improved SelectShift automatic. And all were underrated at 335 bhp.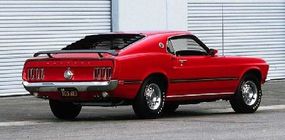 ©2007 Publications International, Ltd. With 59 percent of its weight over the nose, a Mach 1 428 Cobra Jet struggled fortraction, but looks, power, and personality made this a Ford muscle car classic.
But the Cobra Jet's most-pertinent product was torque, enough to send the F40xl4s up in a haze of Polyglas. With 3.91:1 gearing, even the automatic broke 'em lose at each full-throttle upshift. Great for grins, bad for ETs. The root of the problem was a 59-percent-front weight bias, an imbalance that contributed to sloppy handling, as well.
But this was the Mustang Ford fans had waited for -- cheaper than a Boss 429, less temperamental than a Boss 302, and a force anywhere fast cars gathered.
Return to Classic Muscle Cars Library.
For more cool information on muscle cars, check out:
Some of the best all-around performance machines of the day were Ford muscle cars. See profiles, photos, and specifications of Ford muscle cars.
Muscle cars came in many shapes and sizes. Here are features on more than 100 muscle cars, including photos and specifications for each model.
Muscle cars created their own culture. To learn about it, read How Muscle Cars Work.

Are you thinking of buying a 2007 muscle car, or any other car? See Consumer Guide Automotive's New-Car Reviews, Prices, and Information.
These muscle car profiles include photos and specifications for each model:
For even more on fantastic Fords and magnificent Mustangs, check out:
Saddle up for the complete story of America's best-loved sporty car. How the Ford Mustang Works chronicles the legend from its inception in the early 1960s to today's all-new Mustang.

More pizzazz! More performance! Mustang had it all for 1969 -- except more buyers. And 1970 sales were lower still. Was Mustang losing its magic? Find out by reading 1969, 1970 Ford Mustang.
Learn the history of the Ford Explorer, the world's best-selling SUV. Included are profiles of every model year.