Dearborn's fight to shed its also-ran image got a boost when the Mach 1 moved into the starting gate. Here was a Mustang that looked the part of a modern pony muscle car, and in 1969 Ford Mustang Mach 1 428 Cobra Jet livery, it ran like one.
Mustang was restyled for '69, gaining 3.8 inches of body length -- all ahead of the front wheels -- and about 140 pounds of curb weight. The flowing lines looked right in new Mach 1 livery. This was the mainstream performance version. It came standard with a 351-cid V-8, but star of the stable was the optional 428-cid Cobra Jet.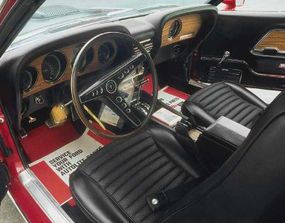 Essentially the same V-8 that put Ford muscle on the map in the 1968 1/2 Cobra Jet Mustang, it came in three states of tune for '69. The base version without Ram Air cost $224; $133 more bought the fresh-air induction system, which this year used a new "shaker" hood in which a scoop mounted to the air cleaner protruded through a hole in the hood and vibrated ominously with the engine.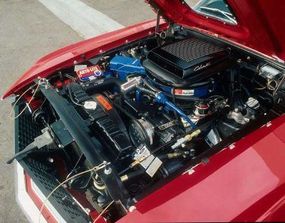 A third version triggered by the $155 Drag-Pack option was the 428 Super Cobra Jet Ram Air. It used the shaker scoop, plus a modified crankshaft and stronger connecting rods for better high-rpm durability, as well as an engine oil cooler that decreased lubricant temperature by 30 degrees. The Drag Pack came with limited-slip 3.91:1 or 4.30:1 cogs and excluded air conditioning. All versions used a four-speed or Ford's improved SelectShift automatic. And all were underrated at 335 bhp.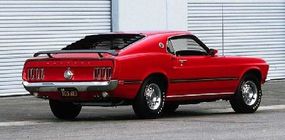 But the Cobra Jet's most-pertinent product was torque, enough to send the F40xl4s up in a haze of Polyglas. With 3.91:1 gearing, even the automatic broke 'em lose at each full-throttle upshift. Great for grins, bad for ETs. The root of the problem was a 59-percent-front weight bias, an imbalance that contributed to sloppy handling, as well.
But this was the Mustang Ford fans had waited for -- cheaper than a Boss 429, less temperamental than a Boss 302, and a force anywhere fast cars gathered.
Return to Classic Muscle Cars Library.