The 1969 Hurst/Olds is proof that even the most conservative manufactuers could get a little giddy where muscle cars were concerned.
As high performance raced into the wacky late '60s, the idea of a mad scientist conjuring up ever-more-potent 4-4-2s seemed almost reasonable, and Olds advertising was rife with the image of Dr. Oldsmobile in his baggy lab coat and silent-movie mustache. In a sense, there really was such a fellow: Jack "Doc" Watson, head of research for Hurst Performance Products.
Olds was the automaker most closely associated with Hurst, which, under Watson's supervision, had produced the mighty '68 Hurst/Olds 4-4-2. Olds in fact recognized Watson's contribution to its cause by naming the ultimate 4-4-2 performance package the W-30.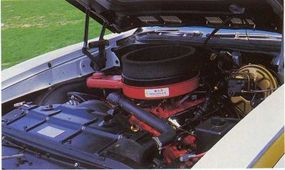 ©2007 Publications International, Ltd. Those hood scoops were functional, feeding the Force Air intake atop the 455-cid Toronado V-8 used by the Hurst/Olds. Regular 4-4-2s had a 400-cid V-8.
The 4-4-2 itself was back with few changes for '69. Its 400-cid V-8 had 350 bhp with manual transmission and 325 with automatic. The blueprinted W-30 version returned, while the new W-32 package combined the 350-bhp variant with automatic transmission. The Force-Air option again earned a 360-bhp rating with the four-speed.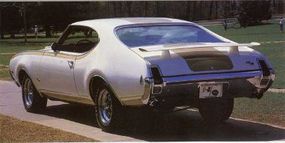 ©2007 Publications International, Ltd. Hurst said the decklid air foil provided 15 pounds of downforce at 60 mph.
Also returning was the Hurst/Olds, but no longer was it remotely low-key in silver and black. Bold "Firefrost Gold" striping now accented its white paint. On the hood was a flamboyant dual-snout scoop more efficient at feeding the engine than the under-bumper Force-Air inlets on other 4-4-2s. And the decklid held an enormous air foil that furnished 15 pounds of downforce at 60 mph, 64 pounds at 120 mph.
The Hurst/Olds again used the 455-cid V-8 with W-30 heads, cam, distributor, and Force-Air induction. This engine, called the W-46, was slightly detuned from '68, losing 10 bhp. A performance-modified Turbo Hydra-matic with console-shifted Hurst Dual-Gate was mandatory.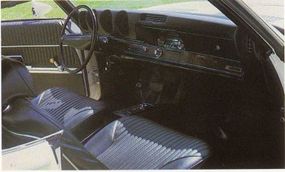 ©2007 Publications International, Ltd. An automatic with Hurst's Dual-Gate shifter was the only transmission. Just 914 of these 4-4-2-based Hurst/Olds models were built for 1969.
Heavy-duty suspension, power front discs, and Polyglas F60xl5s on special seven-inch wheels were standard. Hurst badging and imported English racing mirrors touched up the exterior, custom headrests dressed up the cabin, and air conditioning was optional.
Hurst built a couple of '69 H/O convertibles to go with the hardtops, but total production was under 1,000. The Hurst/Olds would next appear as a luxury-oriented '72 Cutlass, so the fast and flashy '69s closed out its pure-muscle period on a high note, just as Drs. Oldsmobile and Watson would have prescribed.
Return to Classic Muscle Cars Library.
For more cool information on muscle cars, check out:
No muscle cars were more stylish, sophisticated, or brawnier than those from Oldsmobile. See profiles, photos, and specifications of Oldsmobile muscle cars.
Muscle cars came in many shapes and sizes. Here are features on more than 100 muscle cars, including photos and specifications for each model.
Muscle cars created their own culture. To learn about it, read How Muscle Cars Work.
Check out these profiles of muscle cars, which include photos and specifications for each model:
For related car information, see these articles:
The engine is what gives a muscle car its flamboyant personality. To learn everything you need to know about car engines, see How Car Engines Work.
Muscle cars wouldn't have much muscle without horsepower -- but what exactly is horsepower? How Horsepower Works answers that question.
NASCAR race cars embody the muscle car philosophy of power. Read How NASCAR Race Cars Work to find out what makes these charged-up racers go.

Are you thinking of buying a 2007 muscle car, or any other car? See Consumer Guide Automotive's New-Car Reviews, Prices, and Information.