The 1969 Hurst/Olds is proof that even the most conservative manufactuers could get a little giddy where muscle cars were concerned.
As high performance raced into the wacky late '60s, the idea of a mad scientist conjuring up ever-more-potent 4-4-2s seemed almost reasonable, and Olds advertising was rife with the image of Dr. Oldsmobile in his baggy lab coat and silent-movie mustache. In a sense, there really was such a fellow: Jack "Doc" Watson, head of research for Hurst Performance Products.
Olds was the automaker most closely associated with Hurst, which, under Watson's supervision, had produced the mighty '68 Hurst/Olds 4-4-2. Olds in fact recognized Watson's contribution to its cause by naming the ultimate 4-4-2 performance package the W-30.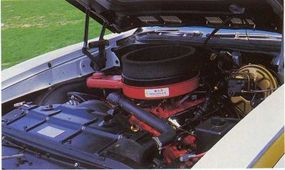 The 4-4-2 itself was back with few changes for '69. Its 400-cid V-8 had 350 bhp with manual transmission and 325 with automatic. The blueprinted W-30 version returned, while the new W-32 package combined the 350-bhp variant with automatic transmission. The Force-Air option again earned a 360-bhp rating with the four-speed.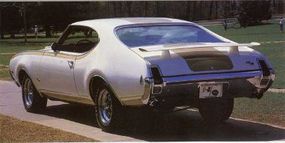 Also returning was the Hurst/Olds, but no longer was it remotely low-key in silver and black. Bold "Firefrost Gold" striping now accented its white paint. On the hood was a flamboyant dual-snout scoop more efficient at feeding the engine than the under-bumper Force-Air inlets on other 4-4-2s. And the decklid held an enormous air foil that furnished 15 pounds of downforce at 60 mph, 64 pounds at 120 mph.
The Hurst/Olds again used the 455-cid V-8 with W-30 heads, cam, distributor, and Force-Air induction. This engine, called the W-46, was slightly detuned from '68, losing 10 bhp. A performance-modified Turbo Hydra-matic with console-shifted Hurst Dual-Gate was mandatory.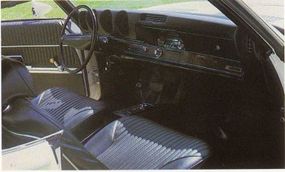 Heavy-duty suspension, power front discs, and Polyglas F60xl5s on special seven-inch wheels were standard. Hurst badging and imported English racing mirrors touched up the exterior, custom headrests dressed up the cabin, and air conditioning was optional.
Hurst built a couple of '69 H/O convertibles to go with the hardtops, but total production was under 1,000. The Hurst/Olds would next appear as a luxury-oriented '72 Cutlass, so the fast and flashy '69s closed out its pure-muscle period on a high note, just as Drs. Oldsmobile and Watson would have prescribed.
Return to Classic Muscle Cars Library.