Sometimes the muscle car thing of a big engine in a small body could be taken too far. The 1969 Plymouth 'Cuda 440 is a case in point. It had the largest engine of any contemporary pony car, and that was its problem.
Plymouth committed itself to Barracuda performance hook, line, and, sinker for 1969. It coined the 'Cuda name to identify a new enthusiast package for fastback and hardtop models with the 340- or 383-cid engines, but the baddest 'Cuda of all came in on a wave that crested midyear. Feeling pressure from rival big-block pony cars, Plymouth cooperated with Hurst/Campbell to shoehorn Mopar's 375-bhp 440-cid four-barrel V-8 into a batch of 'Cuda fastbacks and coupes.
On the positive side, Plymouth now had bragging rights to the largest-displacement pony car of the day. And the 440 Magnum sure did get the ETs down, sometimes into the high 13s.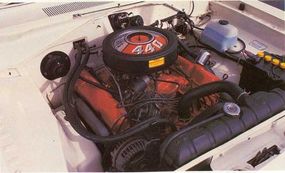 ©2007 Publications International, Ltd. The 440-cid engine created a nose-heavy 'Cuda and left no roomunder the hood for power-steering or power-brake hardware.
But there were problems. It took Plymouth two years to find room under the 383 Barracuda's hood for a power-steering unit. It finally provided one for '69, but with arrival of the 440, the engine bay was once again too crowded to allow the steering-assist hardware. With 57 percent of the 'Cuda 440's weight over the front tires, that was a major blow to low-speed maneuverability.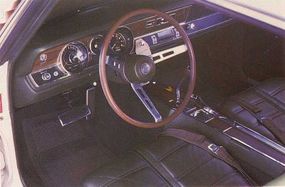 ©2007 Publications International, Ltd. All 'Cuda 440s came with Torqueflight automatic transmission.
Neither did the 440 leave space for the booster that energized the front disc brakes standard on other 'Cudas. So the 440 made do with drums all around, to the detriment of stopping distances and control. Finally, Mopar engineers feared a four-speed manual transmission would encourage speed shifts and destroy the 440 car's rear end, so 440 'Cudas came only with TorqueFlite automatic.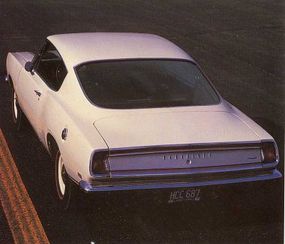 ©2007 Publications International, Ltd. The engine gave the 'Cuda 440 great passing power on the open road butits surplus of torque overwhelmed the rear tires in standing starts.
It was difficult to get the tires to bite off the line in drag-racing starts, and the TorqueFlite -- here lifted from Plymouth's family cars -- didn't upshift with a racer's crispness. On the open road, the 440 'Cuda's abundant power reserves furnished effortless passing, and its steering and braking shortcomings were minimized. It clearly wasn't a complete success, but the lessons of '69 were invaluable, and big-block 'Cudas would soon resurface with a vengeance.
Return to Classic Muscle Cars Library.
For more cool information on muscle cars, check out:
Plymouth muscle cars spanned the spectrum from fanciful to fearsome -- and sometimes displayed both qualities in a single model. See profiles, photos, and specifications of Plymouth muscle cars.
Muscle cars came in many shapes and sizes. Here are features on more than 100 muscle cars, including photos and specifications for each model.
Muscle cars created their own culture. To learn about it, read How Muscle Cars Work.
Check out these profiles of muscle cars, which include photos and specifications for each model:
For related car information, see these articles:
The engine is what gives a muscle car its flamboyant personality. To learn everything you need to know about car engines, see How Car Engines Work.
Muscle cars wouldn't have much muscle without horsepower -- but what exactly is horsepower? How Horsepower Works answers that question.
NASCAR race cars embody the muscle car philosophy of power. Read How NASCAR Race Cars Work to find out what makes these charged-up racers go.

Are you thinking of buying a 2007 muscle car, or any other car? See Consumer Guide Automotive's New-Car Reviews, Prices, and Information.