The 1969 Pontiac Firebird Trans Am marked an inauspicious beginning for a muscle car that would soon become Pontiac's performance flagship.
Officially titled the Trans Am Performance and Appearance Package, the $725 option was launched in March 1969 with little fanfare and no advertising. It was ordered on just 697 Firebird coupes and eight convertibles. Its name came from the popular Trans American racing series, though the car never actually competed in Trans Am racing.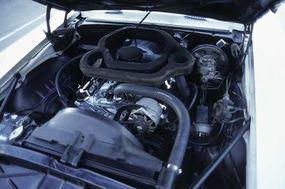 Its base engine was the Firebird 400 HO's 335-bhp 400-cid V-8, but with standard Ram Air induction. It came to be called the Ram Air III. The only alternative was the Ram Air IV version. Ordered on a mere 55 Trans Am coupes, Ram Air IV had a longer-duration cam and 345 bhp. The base mill came with a three-speed and 3.55:1 gears, the Ram Air VI with a four-speed and 3.90:1 cogs, and both were available with automatic. A heavy-duty suspension with one-inch front stabilizer bar, Polyglas F70xl4s on seven-inch rims, and special high-effort variable ratio power steering were standard.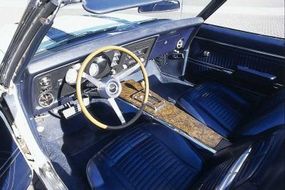 All Trans Ams were Polar White with blue racing stripes, tail panel, and decals. The hood, a Trans Am exclusive, had functional air inlets that could be closed by the driver. Rear-facing fiberglass fender scoops covered fist-sized holes designed to vent the engine bay. A 60-inch air foil spanned the rear deck. The interior was basic Firebird, though an optional rally cluster added a 160-mph speedometer and 8000-rpm tach. Buyers also could order an $85 hood-mounted rev counter.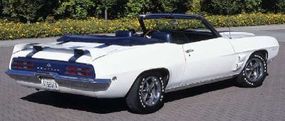 Acceleration was similar to Firebird's with comparable powertrains, but the Trans Am did handle. "We were safely passing chains of cars, eight, nine, ten at a whack... and not having to brake for the corner, but carving the turns at high speed," said Sports Car Graphic after a mountain-road sortie. It took Trans Am just three years to dethrone the GTO as Pontiac's most-popular performance offering. Its beginnings may have been humble, but the car would never be.
Return to Classic Muscle Cars Library.