The 1970 AMC AMX was the best version yet of this blend of muscle car and sports car. It was also, unfortunately, the last true AMX.
AMC was never shy about asserting that its AMX was a genuine sports car. It did have two seats and a wheelbase one inch shorter than a Corvette's. But it also was clearly derived from the Javelin pony car, with shared mechanicals, seats, and dashboard. To purists who debated whether even the 'Vette was a true sports car, a shortened Javelin wasn't worth discussing.
To most Americans, of course, the fact that the AMX wasn't an MG was an advantage. That meant it was reasonably comfortable, had lots of luggage space, and most importantly, could be equipped with a big, powerful V-8 engine.
After bowing midway through the '68 model year, the AMX was largely unaltered for '69, though a Hurst shifter did replace its inferior factory linkage. Changes were more substantial for '70.
Standard in place of a 225-bhp 290-cid V-8 was a new 290-bhp 360. The optional 390 V-8 gained 10 bhp, to 325. The restyled hood carried a scoop that was made functional when the new Ram Air option was ordered. A 390 with Ram Air was rated at 340 bhp. AMC also moved the parking/turn-signal lamps to the grille, creating holes in the bumper that it said cooled the front brakes. Actually, the ducts were too far from the binders to do much good. More effective was a revised front suspension that furtherimproved the already-sharp handling.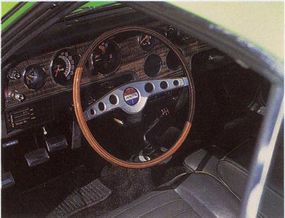 Optimally set up with the $384 "Go" package, which included E70xl4 tires, front disc brakes, super heavy duty suspension, limited slip diff, Ram Air, and improved engine cooling, a 390 AMX was reasonably quick in the quarter and highly competent in the corners. It was a rewarding combination, and so rare in a car from Detroit, that some testers were not about to quibble over the sports-car label.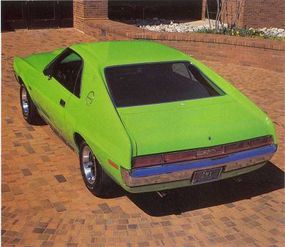 "For the doubters we can testify once again that the AMX feels like a sports car, drives like a sports car, handles like a sports car and therefore in our book (and that of the Sports Car Club of America) it is a sports car," said Road Test magazine.
It was a last hurrah. For '71, the proud AMX lost its identity as a short-wheelbase two-seater and reverted to a decor option for the redesigned and horribly bloated four-seat Javelin.
Return to Classic Muscle Cars Library.