The 1970 AMC Rebel Machine took American Motors into the midsize muscle car field. It wasn't the quiet entry it might have been. As evidence, there exists in the AMC archives a photo of a different, more sinister-looking midsize muscle proposal.
The photo is of a black coupe with authoritative black wheels and fat tires. No stripes, no scoops, no spoilers. Its body rakes forward in an aggressive, street-fighting stance. On the fender is a decal. It shows two gears chewing out the name of this macho prototype: "The Machine."
The photo is dated June 1968, and the car is a '69 Rebel. AMC's high-performance sedan efforts for '69 were focussed on the Rogue-based Hurst SC/Rambler, a brashly decorated compact as overstated as the black Rebel concept was understated. The SC/Rambler didn't survive into '70, but The Machine did. It was not, however, the malevolent rebel promised by the prototype, but a red, white, and blue jukebox of a car, clearly in the spirit of the SC/Rambler. "You have to say this for American Motors," observed Road Test magazine, "when they get their teeth into an idea they pursue it with a vengeance."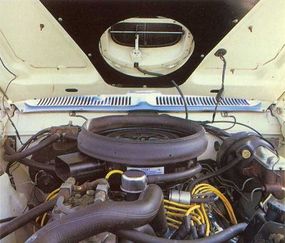 Luckily, The Machine was a pretty good performer. Like the SC/Scrambler, it used the AMX's ram-air 390-cid V-8, newly souped to 340 bhp. In its journey from concept to reality, The Machine gained a big hood scoop that served the engine via a vacuum-controlled butterfly valve. A Hurst-shifted four-speed was mandatory and came with a 3.54:1 axle. AMC's limited-slip diff was a $43 option, with a genuine Detroit Locker and ratios up to 5.00:1 available.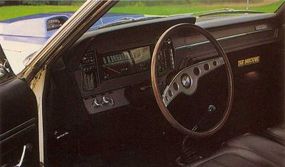 The Machine was one of Detroit's most stiffly sprung muscle cars. Its extra-heavy-duty suspension included firm station wagon rear springs, which elevated the tail and helped account for the raked look. With E60x15 tires, cornering ability was top-notch, but rear-axle juddering off the line prevented the willing, lightweight V-8 from propelling the car into the low-14-second range.
The Machine turned out to be a one-year-only model, and after building the first 1,000 or so, AMC began offering it sans stripes and in any color. It still wasn't the menacing machine of that '69 photo, but buyers could at least get the steak without quite so much sizzle.
Return to Classic Muscle Cars Library.