Other versions certainly had their strong points, but the 1970 Chevrolet Camaro Z28 was simply the best all-around Z28 ever built. It was a muscle car that had come into its own.
Camaro kept its 108-inch wheelbase this year, but otherwise underwent wholesale change with a new coupe body that was an instant classic. The Z28 returned as a $573 package, the heart of which was a new engine. Trans Am racing now allowed destroking to achieve 305 cid, so the Z28 appropriated the Corvette's 350-cid LT1 V-8 as its sole power-plant. A timeless small block, the LT1 had solid lifters, a hot cam, big valves, aluminum pistons, 11.0:1 compression, and a 780-cfm Holley four-barrel. It was rated at 370 bhp in the 'Vette and 360 in the Z28.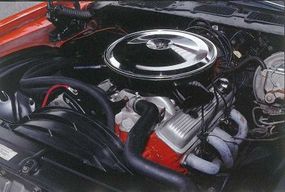 A $206 Hurst-shifted Muncie four-speed and $44 Positraction 3.73:1 gears (with 4.10:1 available) were mandatory extras, and there was now enough low-end torque for Chevy to offer the Z28's first automatic-transmission option. Suspension advances made all '70 Camaros good handlers and the Z28, with firmer underpinnings and sticky Polyglas F60xl5s, was a world-class road car.
Hood and decklid striping, black grille, and seven-inch-wide mag-type steel wheels with polished lugs were part of the package. A rear spoiler was standard, but the air-induction hood was dropped. As before, the Z28 could be combined with the Rally Sport package, which this year went for $169 and included a unique nose treatment with a soft Endura grille surround and chrome bumperettes. Instrument positioning was improved, though a tach was part of the optional $84 gauge group.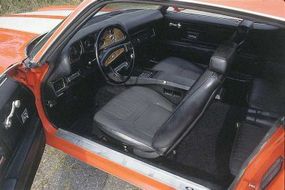 The Z28 had matured. If it had lost some of its predecessors' juvenile zeal, it surpassed them in acceleration, balance, and refinement. Car and Driver called the '70 "an automobile of uncommon merit... a car of brilliant performance...."
After pocketing Trans Am titles in '68 and '69, race Z28s finished poorly in '70, while showroom versions would lose horsepower after this year, beginning a long performance decline. The incomparable '70, then, was an apt exclamation point to the Z28's muscle years.
Return to Classic Muscle Cars Library.