There were plenty of fast Plymouths before 1967, but none had the unified performance image pioneered by the Pontiac GTO. Plymouth finally addressed this with an executive-class muscle car that leaned a little on the Poncho for its name: the 1967 Plymouth Belvedere GTX.
Based on the good-looking two-door Belvedere hardtop and convertible, the GTX dressed up with a special grille and tail panel, simulated hood scoops, and chrome gas cap. Twin racing stripes were optional. The cabin was top-of-the-line, with bucket seats, embossed vinyl, and lots of brightwork.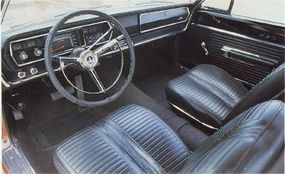 Going fast without fuss was the GTX's mission, so it got a standard powertrain capable of enormous power with minimal effort: Mopar's newly fortified 375-bhp 440-cid V-8. Plymouth called it the Super Commando 440. This was Chrysler's big-car engine improved for high-rpm performance with a revised camshaft and valve train, and free-flowing intake and exhaust systems.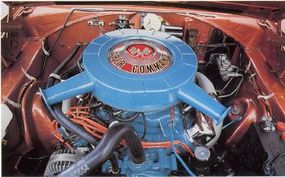 Mopar's unassailable three-speed TorqueFlite automatic was standard. A four-speed manual was optional and came with some serious stuff, including a larger ring gear, double-breaker distributor, free-wheeling fan, even an oil-pan windage tray.
Six-leaf rear springs, plus heavy-duty shocks, torsion bars, and ball joints had critics praising the GTX's handling, though most found the optional power steering grossly overassisted. Disc brakes were optional but surprisingly didn't seem to provide a great advantage over the standard heavy-duty drums.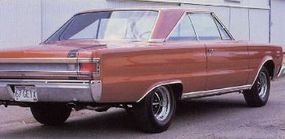 Some 720 buyers forked over an additional $546 for the GTX's sole engine option, the 425-bhp 426 Street Hemi. It used the standard GTX running gear and could turn the quarter in the low-13s, but the 440/TorqueFlite was its equal in most street tussles. Plymouth finally had its image car, and it made no apologies to its inspiration. "GTO owners had better look to their defenses," counseled Car and Driver.
Return to Classic Muscle Cars Library.
Plymouth muscle cars spanned the spectrum from fanciful to fearsome -- and sometimes displayed both qualities in a single model. See profiles, photos, and specifications of Plymouth muscle cars.
Muscle cars came in many shapes and sizes. Here are features on more than 100 muscle cars, including photos and specifications for each model.
Muscle cars created their own culture. To learn about it, read How Muscle Cars Work.
These muscle car profiles include photos and specifications for each model:
For related car information, go to these articles:
The engine is what gives a muscle car its flamboyant personality. To learn everything you need to know about car engines, see How Car Engines Work.
Muscle cars wouldn't have much muscle without horsepower -- but what exactly is horsepower? How Horsepower Works answers that question.
NASCAR race cars embody the muscle car philosophy of power. Read How NASCAR Race Cars Work to find out what makes these charged-up racers go.

Are you thinking of buying a 2007 muscle car, or any other car? See Consumer Guide Automotive's New-Car Reviews, Prices, and Information.