The age of muscle cars peaked as the 1970s began -- and the 1970 Chevrolet Chevelle SS 454 helped to herald the ascent. When GM lifted its displacement ban on midsize cars, Pontiac, Olds, and Buick responded with 455-cid mills with up to 370 bhp. Chevy's retort was a 454-cid V-8 that started at 360 bhp and ended at a barbaric 450. This was the muscle car summit.
Classic Muscle Car Image Gallery
The wrapper was a restyled Chevelle that again presented the Super Sport as an option package for hardtops and convertibles. As the SS 396, it cost $446 and came with a 350-bhp 402-cid V-8, power front discs, F41 suspension, Polyglas F70x14s, and a domed hood. Fat dorsal stripes were optional, but were included with the new $147 cowl-induction hood, which had a flapper near the base of the windshield that opened at full throttle to feed air to the engine.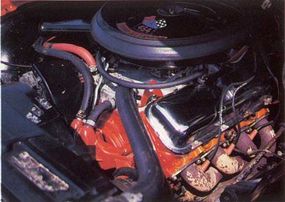 ©2007 Publications International, Ltd. Chevy actually had two different 454-cubic-inch enginesthat could be had in its SS 454 package.
The new SS 454 package cost $503 and included a 360-bhp hydraulic-lifter 454 called the LS5. Then there was the LS6. This was the take-no-prisoners 454, with a 800-cfm Holley four-barrel on an aluminum manifold, 11.25:1 compression, solid lifters, four-bolt mains, forged steel crank and connecting rods, forged aluminum pistons, and deep-groove accessory pullies. No production engine ever had a higher factory horsepower rating.
With mandatory options -- including either the Rock Crusher four-speed or special Turbo 400 automatic -- total cost for an LS6 was more than $1,000. Axles ranged from 3.31:1 to 4.10:1, with Positraction a $42 extra.
The SS Chevelle had a handsome new dash, and on the road, exhibited far more poise than its weight and size would suggest. But the LS6 made it a superstar. Sub-14-second ETs at over 100 mph were routine.
But the LS6's thunder also seemed to signal an approaching storm, one that would dampen muscle for years to come. Testers sensed it. "Without even raising the specters of insurance and social justice," said Car Life after an LS6 experience, "it's fair to say that the Supercar as we know it may have gone as far as it's going."
Return to Classic Muscle Cars Library.
For more cool information on muscle cars, check out:
Chevy muscle cars beat at the heart of big-cube high performance. See profiles, photos, and specifications of Chevy muscle cars.
Muscle cars came in many shapes and sizes. Here are features on more than 100 muscle cars, including photos and specifications for each model.
Muscle cars created their own culture. To learn about it, read How Muscle Cars Work.
These muscle car profiles include photos and specifications for each model:
For related car information, see these articles:
The engine is what gives a muscle car its flamboyant personality. To learn everything you need to know about car engines, see How Car Engines Work.
Muscle cars wouldn't have much muscle without horsepower -- but what exactly is horsepower? How Horsepower Works answers that question.
NASCAR race cars embody the muscle car philosophy of power. Read How NASCAR Race Cars Work to find out what makes these charged-up racers go.

Are you thinking of buying a 2007 muscle car, or any other car? See Consumer Guide Automotive's New-Car Reviews, Prices, and Information.