It took Chrysler six years to develop a true pony car, and by the time the Challenger was introduced, it was hard to do anything really new with the formula. Offering an astonishing range of engine choices, from a docile slant six to the earth-shaking Hemi, was Dodge's way of getting attention. The 1970 Dodge Challenger R/T440 Six Pack was one muscle car that definitely would get you noticed.
Challenger used the same unibody platform as Plymouth's new Barracuda, but its wheelbase was two inches longer to provide slightly more rear-seat room. It was sold in hardtop and convertible form, with performance versions wearing the familiar R/T label. Standard R/T power came from the 335-bhp 383. Two 440s were offered, the four-barrel Magnum with 375 bhp and the tri-carb Six Pack with 390. The 425-bhp 426 Hemi cost $1228 with required heavy-duty equipment.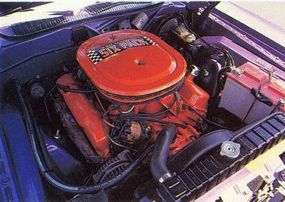 ©2007 Publications International, Ltd. The 440-cid V-8 took its Six Pack moniker from the trio oftwo-barrel carburetors. Of 19,938 Challenger R/Ts built for1970, just 356 were Hemis and 2035 were 440 Six Packs.
The 440s and the Hemi came standard with TorqueFlite automatic. Ordering the four-speed brought a pistol-grip Hurst shifter and a Dana 60 axle. Gear ratios climbed from 3.23:1 to 4.10:1, with limited-slip an extra-cost item. All R/Ts got a beefed suspension, and 440 and Hemi cars got 15-inch 60-series tires, though such essentials as power steering and front disc brakes were optional.
The R/T's standard hood had two scoops that were open but didn't feed directly to the air cleaner. A $97 option was the shaker scoop, which mounted to the air cleaner and protruded through an opening in the hood. Full gauges, including a tach, were standard, and R/Ts could also be ordered in SE guise, which included leather seats and a vinyl roof with a smaller "formal" rear window.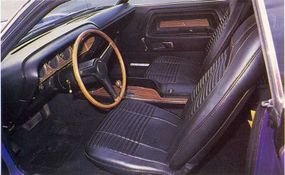 ©2007 Publications International, Ltd. Challengers shared their basic platform with the redesigned Plymouth Barracuda,but had a two-inch longer wheelbase for slightly more cabin space.
Outward visibility was poor, and though everyday road manners were composed, the car felt bulky for its size. Hemis were quickest, but not by enough to justify their premium over the next-most-potent iteration, the 440 Six Pack. "With normal throttle it travels... with complete docility," Road Test said of its Six Pack Challenger. "The explosion comes when you stuff your foot down on the gas pedal, either on purpose or accidentally. The car squirts forward like an unleashed dragster... and suddenly you're way above the speed limit. ..."
Return to Classic Muscle Cars Library.
For more cool information on muscle cars, check out:
Dodge muscle cars were among the fastest and wildest. See profiles, photos, and specifications of Dodge muscle cars.
Muscle cars came in many shapes and sizes. Here are features on more than 100 muscle cars, including photos and specifications for each model.
Muscle cars created their own culture. To learn about it, read How Muscle Cars Work.
Check out these profiles of muscle cars, which include photos and specifications for each model:
For related car information, see these articles:
The engine is what gives a muscle car its flamboyant personality. To learn everything you need to know about car engines, see How Car Engines Work.
Muscle cars wouldn't have much muscle without horsepower -- but what exactly is horsepower? How Horsepower Works answers that question.
NASCAR race cars embody the muscle car philosophy of power. Read How NASCAR Race Cars Work to find out what makes these charged-up racers go.

Are you thinking of buying a 2007 muscle car, or any other car? See Consumer Guide Automotive's New-Car Reviews, Prices, and Information.