While Dodge went with big-car styling cues for its new pony, Plymouth favored a certain economy of line. The Barracuda may have looked lean, but with the right engine, it could be very mean. And no muscle car was meaner than the 1970 Plymouth Hemi 'Cuda.
Sporting derivations again were 'Cudas and featured five hot V-8s, from the sharp 275-bhp 340 and flexible 335-bhp 383, to the imposing 375-bhp four-barrel 440 and the brutal 390-bhp 440+6. Atop the list: the merciless 425-bhp 426 Hemi.
Plymouth knew the big-blocks' mission, and gave the 440 and Hemi 'Cudas a suspension tailored to heavy-metal acceleration. They had no aft stabilizer bar, but their rear leaf springs numbered five on the right, six on the left, with thicknesses chosen to equalize tire loads in hole shots. Wheel hop was negligible, but careless starts would still send the skins (F70x14s on 440s, F60x15s on Hemis) up in smoke.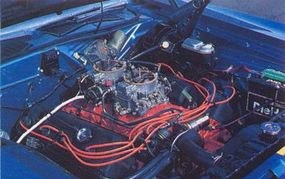 The Barracuda rode a two-inch shorter wheelbase than the Challenger, though its body dimensions were the same. The 'Cuda's standard hood had phony intakes, but the functional shaker scoop was included with the Hemi and was a $97 option on other 'Cudas. Mopar gave the Hemi hydraulic lifters for '70, so it was easier to maintain and, according to some testers, had improved low-rpm power. Some also were impressed with the Hemi car's handling, though others said it was hopelessly nose-heavy. All agreed that ordering the optional 11.3-inch front disc brakes was a smart move. But which 'Cuda was quickest?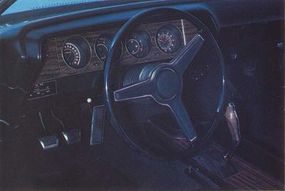 Compared to the $871 Hemi, the 440+6 was a bargain at $250. Both came with a Hurst pistol-grip four-speed or Slap-Stik TorqueFlite and an extra-heavy duty Dana axle. Both had quirks that could make for an interesting drive to the supermarket: The six-barrel's vacuum-actuated front and rear carbs came on with little warning, while the Hemi's stiff throttle linkage sometimes snapped all eight barrels open at once.
The 440+6 was easier to tune than a Hemi, and could stay with one to 70 mph or so. That might be enough away from a stoplight. But not in really serious action, where the relentless race-bred 426 was in its element. Nobody handed this engine its reputation. It earned it.
Return to Classic Muscle Cars Library.