It may not have been the muscle car a purest would have conjured up, but the 1969 Ford Talledga was on its own special mission.
Ford spent a lot of the 1960s and early 1970s watching the taillights of quicker Mopar and GM muscle rivals. But in NASCAR, the forces from Dearborn were consistent front-runners. For '69, their new machine was so hot that even superstar Richard Petty defected from Plymouth to drive it. It was called the Talladega, after NASCAR's newest superspeedway. This was Ford's answer to Dodge's wind-tunnel wonder, the Charger 500, and as required of Dodge, Ford built street versions to qualify it for racing.
The Talladega was based on the 1969 Fairlane Cobra SportsRoof, but with some vital aerodynamic differences. The nose was tapered and stretched by five inches, and a flush-mounted grille replaced the recessed production one. The front bumper was actually a Fairlane rear bumper narrowed to fit. And the rocker panels were raised one inch so the race cars could be lowered correspondingly without violating NASCAR's ride-height requirements.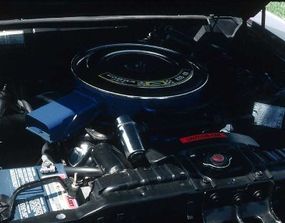 ©2007 Publications International, Ltd. Street versions of the Talladega used the 335-bhp 428-cid Cobra Jet V-8 without ram air but with a Drag Pack oil cooler.
NASCAR versions ran Ford's 427-cid V-8, then switched to the Boss 429. Street Talladegas used the 335-bhp 428 Cobra Jet with a columnshift automatic. None had ram air, but all got a Drag Pack oil cooler. Cobra-issue bench-seat interiors were used.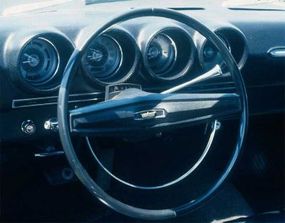 ©2007 Publications International, Ltd. Talladega shared an interior with the 1969 Fairlane Cobra SportsRoof.
Mercury quickly copied the formula, producing the Cyclone Spoiler II. With unique striping and a rear spoiler, street versions were flashier than Talladegas, though Mercury made the 290-bhp 351 V-8 standard and the 428 CJ an option.

©2007 Publications International, Ltd. Street Talladegas were offered for 1969 only and came in just three colors: Presidential Blue,
Ford's aero warriors trounced the Charger 500, winning 30 races, including eight by Petty, and bringing Ford the '69 NASCAR title. When the King Cobra version of the redesigned '70 Torino disappointed in testing, the '69 Talladegas and Spoiler IIs were retained for NASCAR's 1970 season. Petty had been lured back to Plymouth by its radical Superbird, and the title returned to Chrysler. But Ford had produced a real winner, and by happy necessity, unique members of the muscle fraternity.
Return to Classic Muscle Cars Library.
For more cool information on muscle cars, check out:
Some of the best all-around performance machines of the day were Ford muscle cars. See profiles, photos, and specifications of Ford muscle cars.
Muscle cars came in many shapes and sizes. Here are features on more than 100 muscle cars, including photos and specifications for each model.
Muscle cars created their own culture. To learn about it, read How Muscle Cars Work.
These muscle car profiles include photos and specifications for each model:
The 1961 Pontiac Ventura 389 was among the most stylish early muscle cars.

Fastbacks were nothing new, but none was faster than the 1966 Dodge Charger 426 Hemi.

The 1963 Plymouth 426 Wedge was so undomesticated it came with warnings not to use it on the public roads.

Any '71 Chevelle could wear a Super Sport badge, but only the 1971 Chevrolet Chevelle SS 454 earned the right to display its engine size, too.
For related car information, see these articles:
The engine is what gives a muscle car its flamboyant personality. To learn everything you need to know about car engines, see How Car Engines Work.
Muscle cars wouldn't have much muscle without horsepower -- but what exactly is horsepower? How Horsepower Works answers that question.
NASCAR race cars embody the muscle car philosophy of power. Read How NASCAR Race Cars Work to find out what makes these charged-up racers go.

Are you thinking of buying a 2007 muscle car, or any other car? See Consumer Guide Automotive's New-Car Reviews, Prices, and Information.