NASCAR rules that required automakers to put on the street facsimiles of the racers they put on the track resulted in some extravagant muscle cars, and none was more outrageous than the 1970 Plymouth Road Runner Superbird.
The superspeedway "aero wars" were in full flower in 1969 and 1970. Spurred by Ford's wind-cheating Torino Talledega and Mercury's Cyclone Spoiler II, Dodge in 1969 added a wild nose cone and towering rear wing to the Charger 500 body to create the Charger Daytona. The Daytona proved highly effective against its Ford and Mercury rivals in stock-car competition. When Dodge's sister division, Plymouth, clamored for its own winged warrior, it got its wish in the 1970 Road Runner Superbird.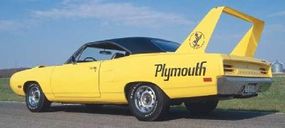 ©2007 Publications International, Ltd. Roadgoing Superbirds had vinyl-covered roofs to hide metalwork scars inflictedduring modifications to the rear window. The
The fallout for Plymouth fans was the 1,935 Superbirds built for the public. Though it was a virtual twin to the Charger Daytona in concept, the Superbird's aerodynamic add-ons were unique parts developed expressly for the 1970 Plymouth Belvedere/Road Runner body. It was an exercise in savvy corporate parts swapping and cost-cutting ingenuity. The Superbird's long metal nosecone was fitted to front fenders and a lengthened hood lifted from the 1970 Dodge Coronet.
All production Superbirds wore vinyl tops to hide the welding seams left by the fitment of the flush-mounted rear window. As on the Charger Daytona, the rearward-facing scoops on the front fenders were for show on production vehicles, but they served a purpose on the race versions: they allowed the fender tops to be cut for tire clearance and suspension travel.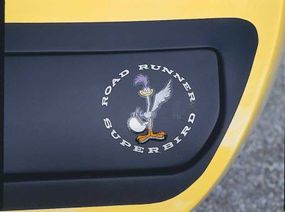 ©2007 Publications International, Ltd. The nose cone was made of metal with fiberglass tubs for the pop-up headlamps.
As if a car with a huge rear wing and wind-tunnel shaped snout wasn't enough, Plymouth added cartoon Road Runner graphics, flat-black panels on the nose cone, and billboard-sized "Plymouth" stickers to the rear flanks for even more visual punch. The visceral whack came courtesy of three engine choices: a 440 with a single four-barrel carb and 375 bhp, the "440+6" with triple two-barrel carbs and 390 bhp, or the dual quad 425-bhp 426 Hemi.
It may be difficult to fathom that both the Daytona and Superbird sold slowly in their time: Some designs apparently went too far even in the anything-goes days of the late muscle car era. Today, however, all Daytonas and Superbirds are valuable collectibles, prized for their rarity and as symbols of that fleeting anything-goes era.
Return to Classic Muscle Cars Library.
For more cool information on muscle cars, check out:
Plymouth muscle cars spanned the spectrum from fanciful to fearsome -– and sometimes displayed both qualities in a single model. See profiles, photos, and specifications of Plymouth muscle cars.
Muscle cars came in many shapes and sizes. Here are features on more than 100 muscle cars, including photos and specifications for each model.
Muscle cars created their own culture. To learn about it, read How Muscle Cars Work.
These muscle car profiles include photos and specifications for each model:
The 1961 Pontiac Ventura 389 was among the most stylish early muscle cars.

Fastbacks were nothing new, but none was faster than the 1966 Dodge Charger 426 Hemi.

The 1963 Plymouth 426 Wedge was so undomesticated it came with warnings not to use it on the public roads.

Any '71 Chevelle could wear a Super Sport badge, but only the 1971 Chevrolet Chevelle SS 454 earned the right to display its engine size, too.
For related car information, see these articles:
The engine is what gives a muscle car its flamboyant personality. To learn everything you need to know about car engines, see How Car Engines Work.
Muscle cars wouldn't have much muscle without horsepower -- but what exactly is horsepower? How Horsepower Works answers that question.
NASCAR race cars embody the muscle car philosophy of power. Read How NASCAR Race Cars Work to find out what makes these charged-up racers go.

Are you thinking of buying a 2007 muscle car, or any other car? See Consumer Guide Automotive's New-Car Reviews, Prices, and Information.