The 1970 Oldsmobile 4-4-2 W-30 stands as a muscle car classic -- but the formula was years in the making. Truth be told, the 1968 and '69 4-4-2 400-cid V-8 was a troubled motor. Olds had revised its bore and stroke to meet emissions and cost requirements, resulting in a "high-performance" mill that wouldn't rev past 5700 rpm and had subpar durability.
W-30 versions, benefitting from better-breathing heads and what amounted to factory blueprinting, matched the performance of the short-stroke '66-67 4-4-2 V-8s. But it wasn't until '70 that Olds got it together with perhaps the best all-around 4-4-2 ever.
The major advance was the newly standard 455-cid V-8, an under-stressed, big-port engine with tug-boat torque. Yet, it also had an advanced design that kept its exterior dimensions compact and its weight below that of the '69 400-cid V-8. It made 365 bhp in base form and was underrated at 370 in W-30 guise.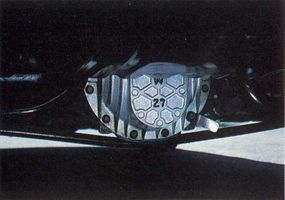 The W-30 package again included what Olds called "Select Fit" engine parts, plus a performance calibrated four-barrel, a hotter cam, and low-restriction exhausts. A Hurst-managed four speed with 3.42:1 gears or a performance-calibrated TurboHydra-matic 400 with a Hurst Dual-Gate shifter and 3.23:1 cogs were drivetrain choices. The Anti-Spin axle was standard and dealer-installed ratios up to 5.00:1 were available. Front disc brakes (with no power assist on four-speed cars), sway bars fore and aft, and G70xl4 white-letter tires were other W-30 components.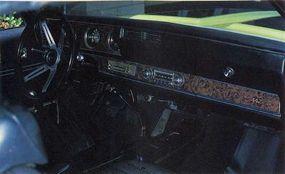 Drawing on experience with 455-cid V-8s in Hurst-doctored cars, Olds knew what it took to get the engine to perform in a 4-4-2. Weight reduction was essential, as illustrated in the W-30 package. The hood, with molded-in functional scoops, was made of fiberglass and was 18 pounds lighter than the steel version. The W-30's intake manifold was aluminum, its inner fender liners were plastic, and the cars had less sound deadener than other 4-4-2s. Aluminum was even used for the differential carrier and cover, shaving another 18 pounds.
Oldsmobile's 1970 W-30s blended a plush bucket-seat cabin with athletic road manners and vivid acceleration. It was the thinking-man's approach to muscle cars.
Return to Classic Muscle Cars Library.