The 1970 Oldsmobile 4-4-2 W-30 stands as a muscle car classic -- but the formula was years in the making. Truth be told, the 1968 and '69 4-4-2 400-cid V-8 was a troubled motor. Olds had revised its bore and stroke to meet emissions and cost requirements, resulting in a "high-performance" mill that wouldn't rev past 5700 rpm and had subpar durability.
W-30 versions, benefitting from better-breathing heads and what amounted to factory blueprinting, matched the performance of the short-stroke '66-67 4-4-2 V-8s. But it wasn't until '70 that Olds got it together with perhaps the best all-around 4-4-2 ever.
The major advance was the newly standard 455-cid V-8, an under-stressed, big-port engine with tug-boat torque. Yet, it also had an advanced design that kept its exterior dimensions compact and its weight below that of the '69 400-cid V-8. It made 365 bhp in base form and was underrated at 370 in W-30 guise.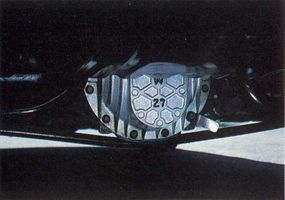 ©2007 Publications International, Ltd. Use of aluminum for the differential componenthelped keep down the W-30's weight.
The W-30 package again included what Olds called "Select Fit" engine parts, plus a performance calibrated four-barrel, a hotter cam, and low-restriction exhausts. A Hurst-managed four speed with 3.42:1 gears or a performance-calibrated TurboHydra-matic 400 with a Hurst Dual-Gate shifter and 3.23:1 cogs were drivetrain choices. The Anti-Spin axle was standard and dealer-installed ratios up to 5.00:1 were available. Front disc brakes (with no power assist on four-speed cars), sway bars fore and aft, and G70xl4 white-letter tires were other W-30 components.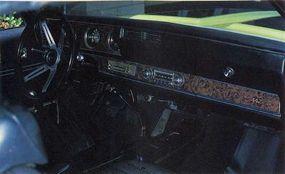 ©2007 Publications International, Ltd. The plush cabin complemented the 4-4-2's muscle car speed and road manners.
Drawing on experience with 455-cid V-8s in Hurst-doctored cars, Olds knew what it took to get the engine to perform in a 4-4-2. Weight reduction was essential, as illustrated in the W-30 package. The hood, with molded-in functional scoops, was made of fiberglass and was 18 pounds lighter than the steel version. The W-30's intake manifold was aluminum, its inner fender liners were plastic, and the cars had less sound deadener than other 4-4-2s. Aluminum was even used for the differential carrier and cover, shaving another 18 pounds.
Oldsmobile's 1970 W-30s blended a plush bucket-seat cabin with athletic road manners and vivid acceleration. It was the thinking-man's approach to muscle cars.
Return to Classic Muscle Cars Library.
For more cool information on muscle cars, go to:
No muscle cars were more stylish, sophisticated, or brawnier than those from Oldsmobile. See profiles, photos, and specifications of Oldsmobile muscle cars.
Muscle cars came in many shapes and sizes. Here are features on more than 100 muscle cars, including photos and specifications for each model.
Muscle cars created their own culture. To learn about it, read How Muscle Cars Work.
Check out these profiles of muscle cars, which include photos and specifications for each model:
For related car information, see these articles:
The engine is what gives a muscle car its flamboyant personality. To learn everything you need to know about car engines, see How Car Engines Work.
Muscle cars wouldn't have much muscle without horsepower -- but what exactly is horsepower? How Horsepower Works answers that question.
NASCAR race cars embody the muscle car philosophy of power. Read How NASCAR Race Cars Work to find out what makes these charged-up racers go.

Are you thinking of buying a 2007 muscle car, or any other car? See Consumer Guide Automotive's New-Car Reviews, Prices, and Information.