In 1968, a company previously unknown for high performance suddenly unveiled a model with enough appeal that two enthusiast groups embraced it: muscle car folks and sports-car people. Inspired by the 1966 American Motors Experimental concept car, the 1968 AMC AMX featured a big-cube V-8 for straight-line go but had a wheelbase one-inch shorter than a Corvette's and just two-seats -- a combination that begged for twisty roads.
AMC created the AMX by slicing 12 inches of wheelbase from its new four-seat Javelin pony car. It gave the resulting 97-inch wheelbase coupe a bolder grille and a cleaner fastback roofline, plus a decorative power-dome hood. Carpeted panels replaced the rear bench, making the AMX and the 'Vette the only American-built two-seaters.
Upgrades from the standard 225-bhp 290-cid V-8 were a 280-bhp 343, and the most popular choice, a 315-bhp 390. The 390 shared the 343's heads, but had its own block, forged instead of cast crankshaft and connecting rods, and larger bearings.
All AMX engines used a single four-barrel. A Borg-Warner four-speed was standard and a three-speed automatic with floor shift was optional. Factory axle ratios ranged from 2.87:1 to 3.54:1, with dealer-installed 4.10:1 and 5.00:1 gears available.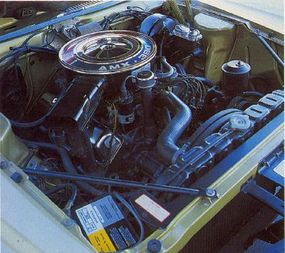 Underneath was a heavy-duty suspension, E70X14 tires, a beefy front sway bar, and a pair of trailing arms that acted like traction bars to fight rear-axle power hop. Twin racing stripes were optional, but each AMX got its production number set into the dashboard. AMC bragged that it would build no more than 8000 '68 AMCs, and this emphasized the limited-production nature of its two-seater.
An AMX couldn't stay with a Corvette in the curves, but was otherwise among the very best-handling domestic cars of its day. The four-speed's terrible shift linkage made the automatic the preferred transmission. But few other automobiles even attempted to blend American-style power with European-style handling, and do it at family-car prices.
Return to Classic Muscle Cars Library.
Even AMC, the champion of the economy car, caught muscle car fever. See profiles, photos, and specifications of AMC muscle cars.
Muscle cars came in many shapes and sizes. Here are features on more than 100 muscle cars, including photos and specifications for each model.
Muscle cars created their own culture. To learn about it, read How Muscle Cars Work.
These muscle car profiles include photos and specifications for each model:
The engine is what gives a muscle car its flamboyant personality. To learn everything you need to know about car engines, see How Car Engines Work.
Muscle cars wouldn't have much muscle without horsepower -- but what exactly is horsepower? How Horsepower Works answers that question.
NASCAR race cars embody the muscle car philosophy of power. Read How NASCAR Race Cars Work to find out what makes these charged-up racers go.

Are you thinking of buying a 2007 muscle car, or any other car? See Consumer Guide Automotive's New-Car Reviews, Prices, and Information.