The 1962 Ford Galaxie 406 brought newfound power to the company's muscle cars. Ford began 1962 without an engine over 400 cid, a serious deficiency against 409 Chevys, 413 Mopars, and 421 Pontiacs. The remedy came partway into the season with an enlargement of the 390-cid Ford to 406 cubic inches.
Called the Thunderbird 406 High-Performance-V-8, but available only in the Galaxie, the new engine cost $380 and came with a heavy-duty suspension, fade-resistant drum brakes, high-capacity radiator, and 15-inch wheels instead of 14s.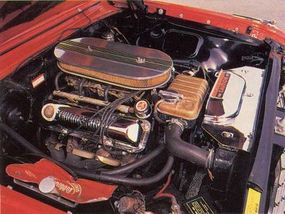 Breathing through a single Holley four-barrel, the 406 had 385 bhp at 5800 rpm and 440 lb-ft of torque at 3800. As the Super High-Performance Tri-Power, it put three Holley two-barrels under a lovely oval air cleaner and was rated at 405 bhp.
Both versions had 11.4:1 compression and cast-in headers that led to low-restriction dual exhausts. Ford's Borg-Warner four-speed manual was mandatory and axle ratios as high as 4:11.1
could replace the standard 3.50:1 cog.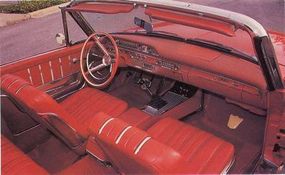 Most 406s went into Galaxie 500 hardtops and pillared coupes, but some were ordered in another midyear addition, the full-zoot 500XL hardtop coupe and 500XL Sunliner convertible.
A base 406 would scoot to 60 mph in 7.1 seconds; the tri-power was about a half-second quicker to 60. Quarter-mile times in the mid-15s were the rule with either version.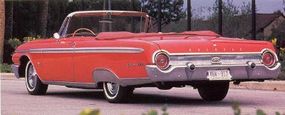 In sanctioned drag racing, the 406 Fords were still too heavy to outrun the top guns from Dodge, Plymouth, Chevy, and Pontiac. Ford shaved 164 pounds off the competition versions by offering
aluminum bumpers and fiberglass body panels, but to no avail.
On the street, however, a rival who didn't notice the gold "406" emblem on the front fender could easily get caught napping by one of these newly fortified Galaxies. Motor Trend said the engine provided "something like Ferrari performance at a fifth of the price." The 406 was also made available in full-size Mercury models for late '62.
Return to Classic Muscle Cars Library.
For more cool information on muscle cars, check out:
Some of the best all-around performance machines of the day were Ford muscle cars. See profiles, photos, and specifications of Ford muscle cars.
Muscle cars came in many shapes and sizes. Here are features on more than 100 muscle cars, including photos and specifications for each model.
Muscle cars created their own culture. To learn about it, read How Muscle Cars Work.
Check out these profiles of muscle cars, which include photos and specifications for each model:
For related car information, see these articles:
The engine is what gives a muscle car its flamboyant personality. To learn everything you need to know about car engines, see How Car Engines Work.
Muscle cars wouldn't have much muscle without horsepower -- but what exactly is horsepower? How Horsepower Works answers that question.
NASCAR race cars embody the muscle car philosophy of power. Read How NASCAR Race Cars Work to find out what makes these charged-up racers go.

Are you thinking of buying a 2007 muscle car, or any other car? See Consumer Guide Automotive's New-Car Reviews, Prices, and Information.