Pontiac altered the GTO's styling for 1970, giving it a new Endura nose with exposed headlamps, bodyside creases, and a revised rump. Underhood, a newly optional 360-bhp 455-cid V-8 provided 500 lb-ft of torque at just 3100 rpm, perfect for the option-laden, luxury tourers many Pontiac GTOs had become. However, the 1970 Pontiac GTO Judge was all about unbridled muscle car performance.
The 455 was off its docket until the last quarter of the model year, when it became available via special order. Most got the 366-bhp 400-cid Ram Air III mill. The extra-cost 370-bhp Ram Air IV was installed in a relative handful.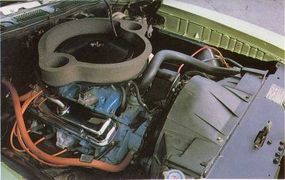 Few muscle cars made a bolder visual statement than the 1970 Pontiac GTO Judge. "The Judge" decals returned, multihued stripes appeared over the bodyside creases, and the 60-inch rear wing now stood high and proud on the tail.
Some Judges also got a matte-black fiberglass chin spoiler. Orbit-Orange remained an exclusive Judge color and was teamed with combination blue/orange/pink stripes. "The Judge," observed Road Test magazine, "is not for people who are shy about being looked at."
But there was no shortage of substance here. Both 400-cid V-8s came with functional hood scoops (an underdash knob controlled air flow). Pontiac finally made a rear sway bar standard and sharpened handling further with a beefier front bar, softer springs, and revised shock valving. The introduction of variable-ratio power steering also improved response.
Transmission choices mirrored those of regular Goats: three-speed manual standard, four-speed and automatic optional, with four-speed Judges getting a Hurst T-handle shifter. Interiors also were standard GTO, except for Judge insignia.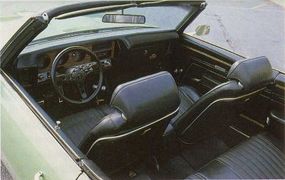 Sales of the '70 Judge declined with those of the GTO, and by mid '71, skidding demand caused Pontiac to retire the special edition after selling just 357 hardtops and 17 ragtops. By then, the top GTO engine was a 335-bhp 455 with 8.4:1 compression. For '72, the proud Goat was once again a LeMans option. It would die ignominiously as a '74 Ventura trim package. The GTO was the original muscle car, and the Judge was GTO at its most extroverted.
Return to Classic Muscle Cars Library.
For more cool information on muscle cars, check out:
Pontiac ignited the classic muscle car era with a stroke of marketing genius. See profiles, photos, and specifications of Pontiac muscle cars.
Muscle cars came in many shapes and sizes. Here are features on more than 100 muscle cars, including photos and specifications for each model.
Muscle cars created their own culture. To learn about it, read How Muscle Cars Work.