The names of muscle cars hadn't changed by 1971, but the personalities had. For instance, there was still a Buick GS 455, but instead of high-lift cams and tall numeric axles, there were low-compression engines and low-octane appetites. The 1971 Buick GS 455 wasn't alone.
GM said all its 1971 models must run on low-lead, regular-grade fuel (91 octane), and meet stricter exhaust-emission standards. The edict reduced the compression ratio of the GS 455's V-8 to 8.5:1, from 1970's 10.0:1. Horsepower tumbled along with it, to 315, from 350. The extra-cost Stage 1 package dropped two full points of compression and suffered a decline to 345 bhp from 360.
These were gross horsepower ratings. For '72, all the automakers would begin publishing net ratings that reflected engine output with all accessories in place. Though a given engine's actual output didn't change from '71 to '72, net figures made for some startling numbers. The '72 GS 455, for example, had a 250-bhp rating, the Stage 1, a 270.
While the light had dimmed for muscle cars, all was not darkness. The 1971 Buick GS 455 still came with a four-barrel carb, dual exhausts, and functional hood scoops that fed the standard ram-air induction system. Heavy duty springs and shocks, wide-oval tires, and a front stabilizer bar were included in the base price, which rose nominally, to $3,285 for the Sport Coupe and $3,476 for the convertible. Styling was as aggressive as ever, and even the GSX returned, if only as an appearance option.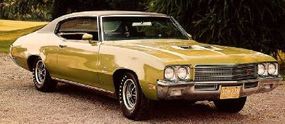 ©2007 Publications International, Ltd. The 1971 Buick GS 455 still had functional hood scoops,wide-oval tires, and heavy-duty springs and shocks,in a nod to classic-era muscle car performance.
Three- and four-speed manuals and the automatic were back, though the 3.61:1 axle ratio was dropped and the 3.42:1 took over as the top factory gear. Any 455 still had enough torque for an impressive seat-of-the-pants feel under hard acceleration, but ETs don't lie, and the '71s were a second or more slower in the quarter than the '70s. GS sales plunged more than 50 percent for the year. The Gran Sport 455 would remain on the roster through 1974, then fade out as a grand remnant of Buick's big-block glory days.
Return to Classic Muscle Cars Library.
For more cool information on muscle cars, go to:
Buick, GM's "gentleman's car" division, was an unlikely source of some of the finest muscle cars. See profiles, photos, and specifications of Buick muscle cars.
Muscle cars came in many shapes and sizes. Here are features on more than 100 muscle cars, including photos and specifications for each model.
Muscle cars created their own culture. To learn about it, read How Muscle Cars Work.
These muscle car profiles include photos and specifications for each model:
For related car information, see these articles:
The engine is what gives a muscle car its flamboyant personality. To learn everything you need to know about car engines, see How Car Engines Work.
Muscle cars wouldn't have much muscle without horsepower -- but what exactly is horsepower? How Horsepower Works answers that question.
NASCAR race cars embody the muscle car philosophy of power. Read How NASCAR Race Cars Work to find out what makes these charged-up racers go.

Are you thinking of buying a 2007 muscle car, or any other car? See Consumer Guide Automotive's New-Car Reviews, Prices, and Information.