The 1967 Pontiac GTO stands as one of the most beautiful muscle cars of all time. To their iconic muscle car's pleasing nose, Pontiac designers added simple polished "chain link" grille inserts. At the tail, they resculpted some edges and cleaned up the lamps. Without disturbing the matchless lines of the '66, the stylists had created an aesthetic triumph.
Something fresh lurked behind the 1967 Pontiac GTO's gorgeous new grille: The standard engine was now a 400-cid enlargement of the 389-cid V-8. Compression was unchanged, and the base version, with its four-barrel carburetor, again made 335 horsepower. But taking over the 360-horsepower slot from the discontinued tri-carburetor setup was a new single four-barrel High Output option. It cost $77 extra and added a higher-lift camshaft, free-flow exhaust manifolds, and an open-element air cleaner. Of the 81,722 GTOs built for '67, 13,827 were equipped with the HO engine.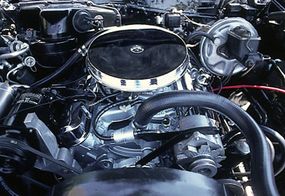 For another $263, the 1967 Pontiac GTO's HO mill could be fitted with Ram Air. These ultimate GTO V-8s had extra-strong valve springs and a longer-duration cam; they were underrated at 360 horsepower. The Ram Air package consisted of hardware that opened the otherwise nonfunctional hood scoops, plus a pan that went around the open-element air cleaner and mated to the hood with a foam-rubber skirt.
Ram Air was a factory option ordered for 751 cars, but the pan and scoop parts were shipped in the trunk of the car for installation by the dealer. The owner was advised to refit the closed-scoop hardware during wet weather.
Three- and four-speed manual transmissions, both with Hurst shifters, were offered for the 1967 Pontiac GTO. Ram Air versions could use the stick or an automatic, but the 4.33:1 axle ratio was mandatory. Replacing the two-speed automatic was the three-speed Turbo Hydra-matic. When it was ordered with a center console, the gear lever was relocated from the steering column to the floor and a Hurst Dual Gate shifter was used. The driver could leave the lever in Drive, or slide it into an adjacent gate for fully manual shifting.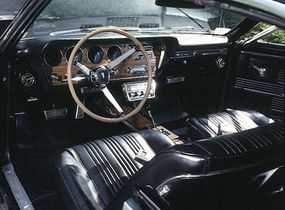 Detail revisions fine-tuned the GTO's styling, while underhood, a 400-cid V-8 replaced the hallowed 389. This car has the optional hood-mounted tach, which looked cool, but was hard to read in rain or direct sunlight. The cabin was still top-flight, even if the dash did trade wood trim for a woodgrain vinyl applique.
Among other new options for the 1967 Pontiac GTO were power front disc brakes ($105) and a hood-mounted tach ($84).
Return to Classic Muscle Cars Library.
Pontiac ignited the classic muscle car era with a stroke of marketing genius. See profiles, photos, and specifications of Pontiac muscle cars.
Muscle cars came in many shapes and sizes. Here are features on more than 100 muscle cars, including photos and specifications for each model.
Muscle cars created their own culture. To learn about it, read How Muscle Cars Work.
These muscle car profiles include photos and specifications for each model:
Cougar pulled out of Mustang's shadow with the striped and spoilered 1969 Mercury Cougar Eliminator.

Beep, beep! Make way for one of the baddest muscle cars of all time, the 1970 Plymouth Road Runner Hemi.
The 1970 Pontiac Firebird Trans Am combined sports-car handling and muscle car power.

The 1964 Ford Thunderbolt was quick as lightning and almost too strong for the street.

An all-aluminum, race-proven V-8 defined the rare and wicked 1969 Chevrolet Camaro ZL1.
The engine is what gives a muscle car its flamboyant personality. To learn everything you need to know about car engines, see How Car Engines Work.
Muscle cars wouldn't have much muscle without horsepower -- but what exactly is horsepower? How Horsepower Works answers that question.
NASCAR race cars embody the muscle car philosophy of power. Read How NASCAR Race Cars Work to find out what makes these charged-up racers go.

Are you thinking of buying a 2007 muscle car, or any other car? See Consumer Guide Automotive's New-Car Reviews, Prices, and Information.