Its time in the limelight was short, but the Max Wedge 413 was the engine that put Mopar in the big leagues of muscle cars. Indeed, the 1962 Dodge Dart 413 was a muscle car that was every bit as good as those being produced by GM and Ford
The 413-cid V-8 had been around since 1959, but not until '61 did it find its way out of big Chryslers and into smaller Dodges and Plymouths. There it made as much as 375 bhp, but with 400-bhp-plus Chevys, Pontiacs, and Fords afoot, Mopa needed more. All 413s had wedge-shaped combustion chambers, but the version unleashed in the spring of '62 was bred for maximum performance. That earned it the unofficial, but enduring, Max Wedge title.
Transmissions were a floor-shift three-speed manual or a fortified pushbutton TorqueFlite. Limited-slip 3.91:1 gears were standard, with ratios from 2.93:1 to 4.89:1 available. Sold as a package that included supporting hardware such as police-car suspension parts, prices for a Max Wedge ranged from $545 to $682, depending on the level of tune and transmission choice.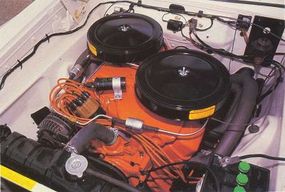 Two versions were offered, both with solid lifters, aluminum pistons, Magnafluxed connecting rods, double-breaker ignition, twin 650-cfm Carter four-barrels, and beautiful three-inch headers that swept up along the side of the engine to clear the front suspension. The 11.0:1-compression Max Wedge had 410 bhp and 460 lb-ft of torque, the 13.5:1 variant made 420 bhp and 470 lb-ft.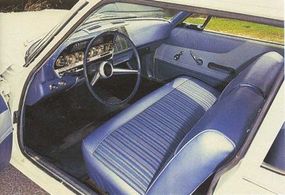 Heightening the impact of the Max Wedge's arrival was a revamp of the '62 Dodge and Plymouth lines. The full-size models -- Dodge Dart and Polara, Plymouth Savoy, Belvedere, and Fury -- dropped two inches in wheelbase and gained controversial new styling. The upside for performance buffs was a decrease in curb weight to near that of competitors' mid-size models, which had nothing to match the Max Wedge.
Turning mid-14s at over 100 mph box stock, a stripper $2,900 Max Wedge Dart, said Motor Trend, "gives more performance per dollar than any other factory-assembled car in America."
Return to Classic Muscle Cars Library.
For more cool information on muscle cars, check out:
Dodge muscle cars were among the fastest and wildest. See profiles, photos, and specifications of more Dodge muscle cars.
Muscle cars came in many shapes and sizes. Here are features on more than 100 muscle cars, including photos and specifications for each model.
Muscle cars created their own culture. To learn about it, read How Muscle Cars Work.
These muscle car profiles include photos and specifications:
Despite a run of less than 50,000 cars, the 409 engine made a lasting impression starting with the 1961 Chevrolet Impala SS 409.
Ford joined the 400-horsepower club with the 1962 Ford Galaxie 406.
The Dart legend returned, thanks to a little aftermarket help, in the 1968 Dodge Dart GTS 440.

The Wedge got even beefier in the 1963 Plymouth 426 Wedge, a 426-bhp track-ready beast not even intended for the street.
For related car information, see these articles:
­The engine is what gives a muscle car its flamboyant personality. To learn everything you need to know about car engines, see How Car Engines Work.
Muscle cars wouldn't have much muscle without horsepower -- but what exactly is horsepower? How Horsepower Works answers that question.
NASCAR race cars embody the muscle car philosophy of power. Read How NASCAR Race Cars Work to find out what makes these charged-up racers go.

Are you thinking of buying a 2007 muscle car, or any other car? See Consumer Guide Automotive's New-Car Reviews, Prices, and Information.
­­­­