The 1965 Dodge Factory Altered Wheelbase Coronet and its Plymouth counterparts were the ultimate production-based muscle cars and were in effect missing links between the Super Stock factory lightweights of the early '60s and the all-out Funny Cars that were just over the horizon.
With proper exhaust systems, these renegade cousins of showroom models would have been street-legal. Clearly, though, they were intended for competition, and their target was the premier showcase for the hottest manufacturer equipment: the NHRA's Factory Experimental class.
FX was a zone beyond Super Stock. Super Stockers were basically models sold to the public. FX cars need only use factory optional equipment -- they need not be showroom available.
Hemi engines and lightweight body parts already were optional in midsize Mopars. The next frontier was weight transfer to optimize traction off the line. Chrysler's solution was to design six Dodge Coronets and six Plymouth Belvederes that put maximum weight on the back axles. The front and rear wheels were moved far forward of their stock position, and the wheelbase itself was shortened by 5.5 percent.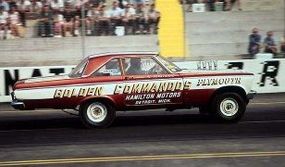 ©2007 Publications International, Ltd.
Altered Wheelbase Dodges were virtually identical to thePlymouth version pictured here. In both, axles were relocatedto put about 56 percent of the car's weight over the rear tires. See more
muscle car pictures
.
Viewing the first of these cars prior to the '65 season, NHRA inspectors recoiled. Chrysler had gone too far. A wheelbase-alteration limit of two percent was quickly instituted, effectively banning the new Mopars from NHRA FX competition. It didn't much matter. The Dodge and Plymouth factory drag teams did an end run around the NHRA. The cars became a sensation running as AHRA Factory Experimentals and in lucrative exhibition matches nationwide. Capacity crowds turned out to see such popular drivers as Dick Landy, Roger Lindamood, Dave Strickler, and Bud Faubel at the wheel.
Return to Classic Muscle Cars Library.
For more cool information on muscle cars, see:
Dodge muscle cars were among the fastest and wildest. See profiles, photos, and specifications of Dodge muscle cars.
Muscle cars came in many shapes and sizes. Here are features on more than 100 muscle cars, including photos and specifications for each model.
Muscle cars created their own culture. To learn about it, read How Muscle Cars Work.
These muscle car profiles include photos and specifications for each model:
For related car information, see these articles:
The engine is what gives a muscle car its flamboyant personality. To learn everything you need to know about car engines, see How Car Engines Work.
Muscle cars wouldn't have much muscle without horsepower -- but what exactly is horsepower? How Horsepower Works answers that question.
NASCAR race cars embody the muscle car philosophy of power. Read How NASCAR Race Cars Work to find out what makes these charged-up racers go.

Are you thinking of buying a 2007 muscle car, or any other car? See Consumer Guide Automotive's New-Car Reviews, Prices, and Information.