Chrysler offered its 426 Hemi engine briefly and in very limited numbers in some '65 Mopar intermediates, but with 12.5:1 compression and competition-grade tuning, it was too high-strung for the street. That changed in '66, when the 426-cid Hemi V-8 was added to the regular production options list. And one of the muscle cars that benefited from this change was the 1966 Plymouth Satellite 426 Hemi.
Creating the Street Hemi required numerous changes to the race engine, including substituting cast-iron cylinder heads for aluminum ones and dual Carter four-barrels for the racing Holley carb. Among other alterations, the compression ratio was reduced to 10.25:1, a milder camshaft was installed, and a choke was added to the rear primaries so the engine could start in cold weather. As delivered from the factory, the race Hemi developed an estimated 550 bhp. The Street Hemi was rated at 425 bhp, though actual output was higher.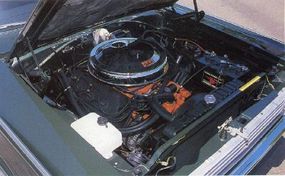 At Plymouth, the new engine found a home in the restyled Satellite and its less-plush Belvedere sibling. The Hemi was specially assembled at Chrysler's Marine/Industrial Division plant and ordering it added about $1,000 to a Satellite two-door hardtop or convertible, pushing the price close to $4,000 even without other options. Transmission choices were a four-speed manual or the TorqueFlite. The standard axle ratio with both was 3.23:1 and a Sure-Grip limited-slip diff was optional.
The engine came with a host of performance-enhancing extras, including heavy-duty suspension and police-grade 11-inch drum brakes (the front discs available in full-size Mopars weren't offered). Still, the nose-heavy Hemi Satellite was sloppy in turns and took a long time to stop. Around-town fuel economy was 10-13 mpg.
None of that was unusual for a truly hot machine of the day, but finally, here was an ultra-supercar that wasn't also burdened with poor driveability. Car and Driver called the 1966 Hemi Satellite "the best combination of brute performance and tractable street manners we've ever driven...."
Return to Classic Muscle Cars Library.
Plymouth muscle cars spanned the spectrum from fanciful to fearsome -- and sometimes displayed both qualities in a single model. See profiles, photos, and specifications of Plymouth muscle cars.
Muscle cars came in many shapes and sizes. Here are features on more than 100 muscle cars, including photos and specifications for each model.
Muscle cars created their own culture. To learn about it, read How Muscle Cars Work.
These muscle car profiles include photos and specifications for each model:
The engine is what gives a muscle car its flamboyant personality. To learn everything you need to know about car engines, see How Car Engines Work.
Muscle cars wouldn't have much muscle without horsepower -- but what exactly is horsepower? How Horsepower Works answers that question.
NASCAR race cars embody the muscle car philosophy of power. Read How NASCAR Race Cars Work to find out what makes these charged-up racers go.

Are you thinking of buying a 2007 muscle car, or any other car? See Consumer Guide Automotive's New-Car Reviews, Prices, and Information.