Mopar fans still bristle at the thought of Steve McQueen's 390 Mustang besting that black 440 Charger R/T. At least producers of the hit film Bullitt knew what they were doing when they cast the redesigned Dodge as McQueen's foil. The 1968 Dodge Charger R/T Hemi was a muscle car with star quality.
Charger's new hidden-headlamp grille, curvy body, elegant recessed backlight, refined tail, and spare use of chrome represented a styling high point for '60s muscle cars. And in R/T form, its performance justified equal praise.
For $3,506, the R/T came with the 375-bhp 440-cid four-barrel Magnum V-8, heavy-duty brakes, R/T handling package, and F70Xl4 tires. The rear bumblebee stripe could be left off, while inside, the original Charger's space-age interior gave way to less flashy, more functional decor.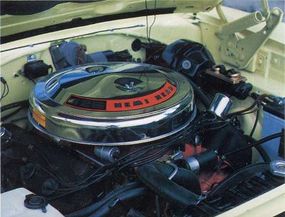 The only engine option was the mighty 426 Hemi, at $605. Chrysler strengthened it for '68, with a slightly longer-duration cam, new valve springs, and revisions that reduced oil consumption. It was still underrated at 425 bhp, but as Car and Driver marveled, "There just isn't more honest horsepower available off the showroom floor than you get from this bright orange monster."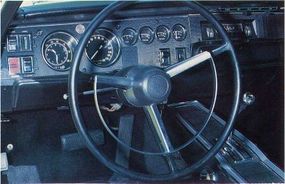 Either engine could be hooked to a TorqueFlite automatic with a floor lever or a four-speed with a Hurst Competition-Plus shifter. Automatic was the ticket for straight-line acceleration, and Hemi cars got a special high-stall-speed torque converter (3.23:1 gears were standard). The driver could upshift at 6500 rpm, or let the TorqueFlite do it at 5500. In traffic, the Hemi could be driven like a docile small-block yet was more than half a second quicker and 10 mph faster in the quarter-mile than a 440 Charger.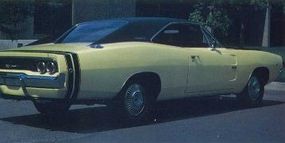 The '68 model's new bucket seats lacked support, and its flying-buttress roof pillars reduced rear visibility. On R/Ts, handling was a nose-heavy chore, and such essential items as a tach, power-front disc brakes, and power steering were options. Still, Charger sales increased sixfold over '67, leaving just one question: How would McQueen have done against a Hemi?
Return to Classic Muscle Cars Library.
Dodge muscle cars were among the fastest and wildest. See profiles, photos, and specifications of Dodge muscle cars.
Muscle cars came in many shapes and sizes. Here are features on more than 100 muscle cars, including photos and specifications for each model.
Muscle cars created their own culture. To learn about it, read How Muscle Cars Work.
These muscle car profiles include photos and specifications for each model:
For related car information, go to these articles:
The engine is what gives a muscle car its flamboyant personality. To learn everything you need to know about car engines, see How Car Engines Work.
Muscle cars wouldn't have much muscle without horsepower -- but what exactly is horsepower? How Horsepower Works answers that question.
NASCAR race cars embody the muscle car philosophy of power. Read How NASCAR Race Cars Work to find out what makes these charged-up racers go.

Are you thinking of buying a 2007 muscle car, or any other car? See Consumer Guide Automotive's New-Car Reviews, Prices, and Information.