With all the hoopla in 1969 surrounding the arrival of the Super Bee Six Pack and the continued popularity of the Charger, a Dodge original -- the Coronet R/T -- seemed lost in the shuffle. The Coronet R/T was the first Dodge to unify traditional muscle car elements under one nameplate back in '67. Sales topped 10,000 for its first two years, but that number dropped to 7,200 for the 1969 Dodge Coronet R/T. Sales then slipped to 2,600 in 1970 -- the car's swan-song season.
But quantity is not quality, of course, and Dodge continued to fine-tune its gentleman's muscle car for '69. Grille and taillamps were revised and 15-inch cast-aluminum road wheels were optional in place of the standard 14-inchers.
The 375-bhp 440 Magnum four-barrel was again standard. Just 97 hardtops and 10 convertibles were ordered with the sole engine option, the 425-bhp 426 Hemi. A Ramcharger fresh-air induction package that added two sizable hood scoops was a new option with the 440 and was standard with the Hemi, but it didn't alter power ratings.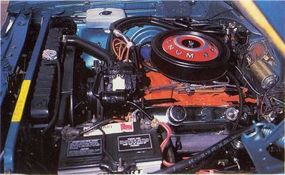 Dodge had formed the Scat Park to standardize marketing of its performance-car offerings, and now even the R/T's axle rations were being organized into unified component packages. For example, the drag-oriented Track-Pak grouped a 3-54:1 Dana axle, Sure-Grip differential, dual-point distributor, heavy-duty four-speed with Hurst shifter, and heavy-duty cooling system. Other packages emphasized handling or highway cruising.
On the subject of axle ratios, Car Life observed that the 440 Magnum V-8 and three-speed TorqueFlite automatic combination in its Coronet R/T test car was so responsive that the standard 3.23:1 cog could have been replaced with a more-economical 2.76:1 axle ratio with little loss of acceleration.
"The 440's brute torque makes high revving completely unnecessary," the magazine said. "Shift points up to 5500 rpm were tried, but 5000 rpm gave the best performance."
Dodge had simplified its hot intermediate to produce the budget-muscle Super Bee, and used its platform for the glamour muscle Charger. In between was the Coronet R/T, a muscle-car original holding -- and occasionally dominating -- the middle ground.
Return to Classic Muscle Cars Library.