When Dodge finally got a legitimate pony car to race in the Sports Car Club of America's Trans American Sedan Championship in 1970, it built a muscle car version for the street that was even wilder than the competition model. We're talking about the 1970 Dodge Challenger T/A.
SCCA rules required Dodge to sell production editions of the track car, and Dodge responded with the Challenger T/A. The race cars ran a destroked 305-cid version of Mopar's fine 340-cid V-8. It had a four-barrel carb and some 440 bhp. Street T/As stayed with the 340, but upped the ante with a trio of two-barrel Holleys atop an Edelbrock aluminum intake manifold.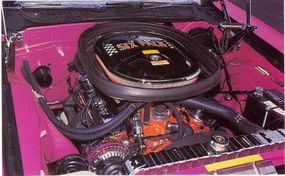 Despite the "Six Pak" carburetion and a host of internal reinforcements, the T/A's mill carried the same 290 bhp rating as regular four-barrel 340s, though true output was near 350 bhp. Feeding it air was a suitcase-sized scoop molded into the pinned-down matte-black fiberglass hood. Low-restriction dual exhausts ran to the stock muffler location under the trunk, then reversed direction to exit in chrome-tipped "megaphone" outlets in front of the rear wheels.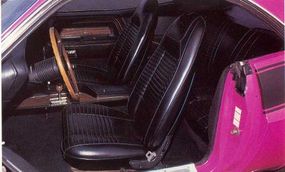 TorqueFlite automatic or Hurst-shifted four-speed, 3.55:1 or 3.90:1 gears, manual or power steering were available. Front discs were standard. The special Rallye suspension used heavy-duty everything and increased the camber of the rear springs. The T/A was among the first production cars with different sized tires front and rear: E60x15s up front, G60x15s in back.
The modified camber elevated the tail enough to clear the rear rubber and the exhaust outlets, giving the T/A a real street-punk's stance. Thick side stripes, bold ID graphics, and a black ducktail spoiler joined the visual assault, though the cabin was standard Challenger R/T.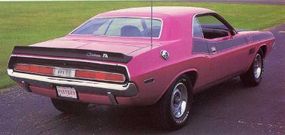 As it turned out, the T/A wasn't a consistent SCCA winner, and its street sibling didn't act much like a road racer, succumbing to debilitating understeer in fast corners. But the intensified 340 and meaty rear tires helped production versions claw through the quarter in the mid 14s, a showing that would do any small-block proud.
Return to Classic Muscle Cars Library.