When Dodge finally got a legitimate pony car to race in the Sports Car Club of America's Trans American Sedan Championship in 1970, it built a muscle car version for the street that was even wilder than the competition model. We're talking about the 1970 Dodge Challenger T/A.
SCCA rules required Dodge to sell production editions of the track car, and Dodge responded with the Challenger T/A. The race cars ran a destroked 305-cid version of Mopar's fine 340-cid V-8. It had a four-barrel carb and some 440 bhp. Street T/As stayed with the 340, but upped the ante with a trio of two-barrel Holleys atop an Edelbrock aluminum intake manifold.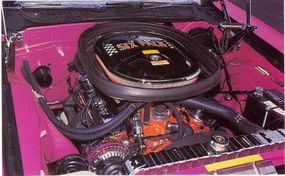 ©2007 Publications International, Ltd. Dodge rated the T/A's engine at 290 horsepower, but with Six Packcarburetion the output was probably around 350.
Despite the "Six Pak" carburetion and a host of internal reinforcements, the T/A's mill carried the same 290 bhp rating as regular four-barrel 340s, though true output was near 350 bhp. Feeding it air was a suitcase-sized scoop molded into the pinned-down matte-black fiberglass hood. Low-restriction dual exhausts ran to the stock muffler location under the trunk, then reversed direction to exit in chrome-tipped "megaphone" outlets in front of the rear wheels.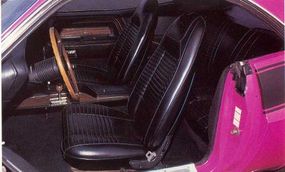 ©2007 Publications International, Ltd. The cabin was standard fare for a Dodge Challenger.
TorqueFlite automatic or Hurst-shifted four-speed, 3.55:1 or 3.90:1 gears, manual or power steering were available. Front discs were standard. The special Rallye suspension used heavy-duty everything and increased the camber of the rear springs. The T/A was among the first production cars with different sized tires front and rear: E60x15s up front, G60x15s in back.
The modified camber elevated the tail enough to clear the rear rubber and the exhaust outlets, giving the T/A a real street-punk's stance. Thick side stripes, bold ID graphics, and a black ducktail spoiler joined the visual assault, though the cabin was standard Challenger R/T.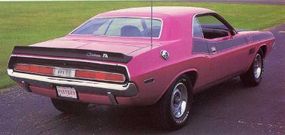 ©2007 Publications International, Ltd. An elevated tail, spoiler, and thick black stripesgave the 1970 Dodge Challenger T/A credibility on the street.
As it turned out, the T/A wasn't a consistent SCCA winner, and its street sibling didn't act much like a road racer, succumbing to debilitating understeer in fast corners. But the intensified 340 and meaty rear tires helped production versions claw through the quarter in the mid 14s, a showing that would do any small-block proud.
Return to Classic Muscle Cars Library.
For more cool information on muscle cars, go to:
Dodge muscle cars were among the fastest and wildest. See profiles, photos, and specifications of Dodge muscle cars.
Muscle cars came in many shapes and sizes. Here are features on more than 100 muscle cars, including photos and specifications for each model.
Muscle cars created their own culture. To learn about it, read How Muscle Cars Work.
Check out these profiles of muscle cars, which include photos and specifications for each model:
For related car information, see these articles:
The engine is what gives a muscle car its flamboyant personality. To learn everything you need to know about car engines, see How Car Engines Work.
Muscle cars wouldn't have much muscle without horsepower -- but what exactly is horsepower? How Horsepower Works answers that question.
NASCAR race cars embody the muscle car philosophy of power. Read How NASCAR Race Cars Work to find out what makes these charged-up racers go.

Are you thinking of buying a 2007 muscle car, or any other car? See Consumer Guide Automotive's New-Car Reviews, Prices, and Information.