If Ford was embarrassed that its finest Mustang muscle cars were the handiwork of the same guys who developed the best Chevrolet Camaros, it certainly never said so. At any rate, revenge was sweet with the 1970 Ford Mustang Boss 302.
GM executive Semon "Bunkie" Knudsen, who used performance to revive Pontiac, defected to become president of Ford in early 1968. He brought along stylist Larry Shinoda, whose work included the Z28 that had unseated Mustang as '68 and '69 Trans Am champ. The Mach 1 was among their first efforts, but the most-special '69 and '70 Mustangs drew on Shinoda's nickname for Knudsen, "boss."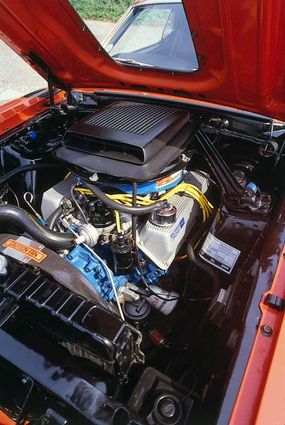 Like the Z28, the Boss 302 was built as a Trans Am road-racing qualifier. Its heart was Ford's 302-cid V-8 treated to the high-performance, big-port cylinder heads being readied for the famous Cleveland 351. The Boss's solid-lifter small-block used the biggest carb employed by Ford, a 780-cfm Holley four-barrel, and was underrated at the same 290 bhp as the Z28's 302. A Hurst-shifted four speed and 3.50:1 gears were standard; 3.91:1 and Detroit Locker 4.30:1 cogs were optional. Underneath were racing-inspired suspension modifications, Polyglas F60xl5s, and power front discs.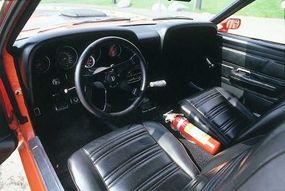 Shinoda's expertise in aerodynamics influenced the Boss's exterior. Mustang's phony fender vents were enclosed and a front spoiler was fitted; a rear air foil and backlight blinds were optional. Blackout trim and stripes finished the look. Ford built 1,628 Boss 302s for '69, then came back with 7,013 for '70, when quad headlamps were traded for double units flanked by fake air intakes, a "shaker" hood scoop was made available, and the engine got smaller intake valves and a 6000-rpm rev limiter.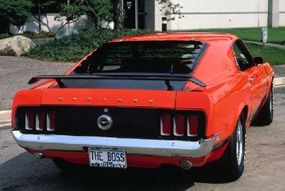 In Trans Am, racing Boss 302s retook the '70 crown from Chevy. Street versions weren't always as fast as a 302 Z28, but they had more cornering power and a less-peaky, more-flexible engine. "The Boss 302 is a hell of an enthusiast's car," said Car and Driver. "It's what the Shelby GT 350s and 500s should have been but weren't."
Return to Classic Muscle Cars Library.