Judging from their newfound plumpness, Detroit's 1970 crop of intermediates were not only midsized, but middle-aged. Nowhere was that truer than at Ford, where the 1970 Ford Torino Cobra gained an inch of wheelbase and five full inches of length, making it among the very largest cars in the segment. At least the reshaped sheetmetal looked aero-inspired, while a two-inch increase in tread width allowed Ford to squeeze in a new high-performance engine befitting of a muscle car.
Replacing the willing but aged 428-cid V-8 was a new 429-cid mill. This was not the semi-hemi Boss 429 engine, but a fresh design with thin-wall construction and canted-valve heads. Ford retained a familiar moniker for the hottest versions, and built a new muscle car around them: the Torino Cobra.
This was basically a SportsRoof Torino GT in fighting trim, with exposed headlamps, blackout hood, and available muscle-car touches like rear-window slats and fat Polyglas F60x15s on seven-inch-wide Magnum 500 wheels. Standard equipment included a Hurst-shifted, competition suspension with staggered rear shocks, and Cobra insignia.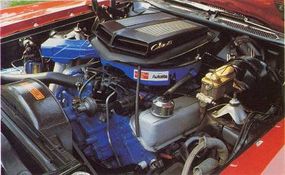 The standard engine was a 10.5:1-compression 360-bhp version of the 429. Things quickly got serious with the 370-bhp Cobra variant, which had an 11.3:1 squeeze, different heads, a high-lift cam, and a 700-cfm Holley four-barrel on a high-rise manifold. With the available shaker scoop, this engine was called the 429 Cobra Jet Ram-Air, but stayed at 370 bhp.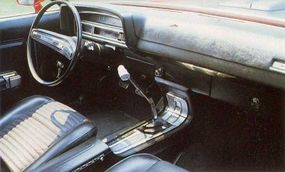 Ordering the Drag Pack with the Cobra engine added Traction-Lok 3.91:1 or Detroit Locker 4.30:.1 gears, a mechanical-lifter cam, oil cooler, forged aluminum pistons, four-bolt mains, and a 780-cfm four-barrel, for a 375-bhp rating. (Early '70 ads also listed the genuine Boss 429 as a Torino Cobra option, though few were installed.)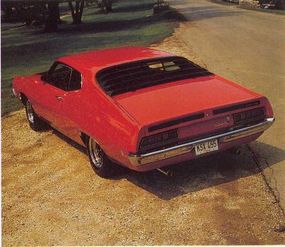 Torino Cobras weren't as brutally overpowering as some rival big-blocks, but they were strong enough on the street. Part of the car's heft actually helped performance: With so much weight in the tail, dig off the line was excellent and its 0-60 mph sprints were extremely competitive. Handling was surprisingly composed, comfort was high, and Cobras -- those without solid lifters -- were quiet. Evidently, middle age has its good points.
Return to Classic Muscle Cars Library.