The 1971 Plymouth GTX 440+6 was among the precious few muscle cars from that year that needed no excuses. It was bold, it was bad. Some said it was beautiful.
Once again, the Plymouth GTX played upscale companion to the budget-muscle Road Runner. Both were part of Chrysler's revamped midsize line (which also included the Dodge Charger), and both got curvaceous new "fuselage" styling on a wheelbase one inch shorter than before. With the new body came a three-inch increase in rear track, which benefited handling, plus a reconfigured interior with a more-comfortable driving position and superior ergonomics.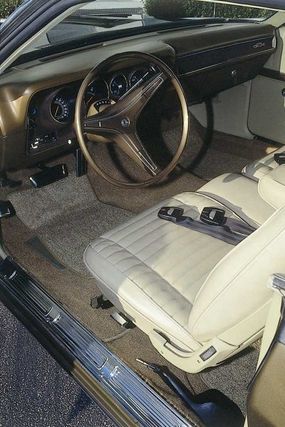 Although Mopar was the slowest of Detroit's Big Three to scale back, not all its V-8s escaped detuning. Road Runner's standard 383-cid four barrel, for instance, lost 35 bhp. GTX engines, however, held out relatively unscathed. Compression ratios were shaved slightly, but the standard 440 four-barrel and the optional triple-two-barrel 440+6 lost only five bhp, to 370 and 385, respectively. The extra-cost and seldom-ordered 426 Hemi held fast at 425 bhp. Four-speeds and TorqueFlites, with axle ratios up to 4.10:1, were still available, as was the Air Grabber hood.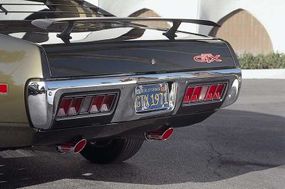 Weight was up by about 170 pounds, however, and quarter-mile times crept higher, by nearly a full second in some tests. The '71 GTX also had the stiffest suspension rates of any Mopar intermediate, and while handling was adequate, most testers concluded that it wasn't good enough to justify the rock-hard ride. But clearly, there was sinew beneath that new skin, and the car could still scale muscle's twin peaks: under 14 seconds and over 100 mph in the quarter-mile.
"All in all," said Car and Driver, "we would have to say that the Plymouth GTX is a step forward on a front where all others are retreating. In certain areas, styling and driver comfort, for example, it is vastly improved over the previous model and only in performance, primarily because of increased weight, has it lost ground."
As it turned out, the GTX succumbed sooner rather than later to the forces killing hot machinery; 1971 was its last year. The more-popular Road Runner name lived on until the 1975 model year, but mostly as a muscle car in memory only. The GTX, at least, died with its big-cube boots on.
Return to Classic Muscle Cars Library.