Like a veteran heavyweight calling on all his tools to finish strong in the late rounds, the 1970 Dodge Charger R/T Hemi entered the last year of its classic muscle car period with an unprecedented array of tricks.
A new chrome loop front bumper was echoed by a fresh full-width taillamp housing, and R/T versions gained a simulated reverse body-side scoop. The color palette took on a younger look, borrowing high-impact hues like Plum Crazy and Go-Mango from the new Challenger. New front seats were the car's first to qualify as true buckets, and a hip pistol-grip handle now topped the available four-speed's Hurst shifter.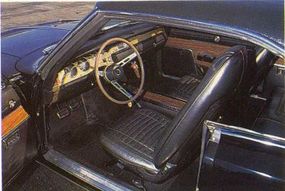 ©2007 Publications International, Ltd. True bucket seats were available for the first time in the 1970 Dodge Charger.
Carried over was the extra-cost SE (Special Edition) group with its leather upholstery. And for the first time, Charger could be optioned with an electric sliding sunroof.
Again standard on the R/T was the 375-bhp 440-cid four-barrel, but for those who didn't wish to shell out another $648 for the 425-bhp 426 Hemi, there was a new choice, the 390-bhp 440 with a trio of Holley two-barrels. It cost and upkeep were friendlier than the Hemi's, torque was identical (at 800 less rpm), and in a street fight, few big cars were tougher than a 440 Six Pack. King Kong itself grew more accommodating with the addition of hydraulic lifters, which were better than solid tappets at maintaining the valve lash so essential for good Hemi performance.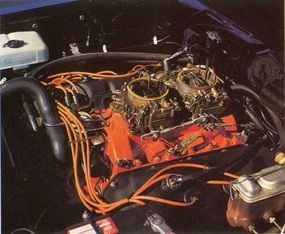 ©2007 Publications International, Ltd. The Hemi version of the Charger, with twin two-barrelcarburetors, produced 425 horsepower.
Still, being fast with a Hemi required keeping all four carburetor barrels from opening until the tires hooked up. Not every driver was so skillful. "If you were Hemi hunting in a lesser car, you wanted to catch him at a stop," explained Patrick Bedard in his 1990 Car and Driver "street warriors" retrospective. "If he fumbled and you were lucky enough to pull out a fender-length on him, you claimed victory early by backing off the power, thereby ending the run. If you were crazy enough to stay on it, the Hemi would take over in short order."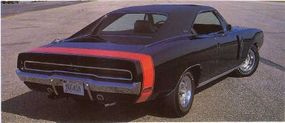 ©2007 Publications International, Ltd. If you raced against a 1970 Dodge Charger R/T Hemi,you probably would end up seeing this rear view.
No Charger offered a broader array of thrills and frills than the 70. But rising insurance rates and tougher competition caused R/T sales to fall 50 percent, to 10,337, for the model year. With 116 orders, the new Six Pack outsold the Hemi by more than two to one.
Return to Classic Muscle Cars Library.
For more cool information on muscle cars, go to:
Dodge muscle cars were among the fastest and wildest. See profiles, photos, and specifications of Dodge muscle cars.
Muscle cars came in many shapes and sizes. Here are features on more than 100 muscle cars, including photos and specifications for each model.
Muscle cars created their own culture. To learn about it, read How Muscle Cars Work.
Check out these profiles of muscle cars, which include photos and specifications for each model:
For related car information, see these articles:
The engine is what gives a muscle car its flamboyant personality. To learn everything you need to know about car engines, see How Car Engines Work.
Muscle cars wouldn't have much muscle without horsepower -- but what exactly is horsepower? How Horsepower Works answers that question.
NASCAR race cars embody the muscle car philosophy of power. Read How NASCAR Race Cars Work to find out what makes these charged-up racers go.

Are you thinking of buying a 2007 muscle car, or any other car? See Consumer Guide Automotive's New-Car Reviews, Prices, and Information.