The 1971 Pontiac Firebird Trans Am eclipsed the GTO as the automaker's premier performance offering, and sent the rest of the pony field scurrying. This truly was a muscle car to behold: Its weapon was the biggest V-8 ever offered in the pony class.
With just half-a-year production under its belt, Pontiac decided not to tamper with the appearance of the '71 Firebird, so Trans Am was visually unaltered, though new honeycomb wheels joined the options list. Still offered in just blue or white with contrasting stripes, the car kept its functional rear-facing shaker scoop.
Like its sister divisions, Pontiac satisfied GM's new emissions policies by reducing compression ratios of existing engines. But instead of standing pat with a defused 400-cid V-8 for its new performance leader, the excitement division compensated for the cutbacks with a larger engine, the 455-cid V-8.
A 325-hp version of the 455 was optional in the '71 Firebird Formula, but the 335-hp 455 High Output was the only engine in the '71 Trans Am. To create the 455 HO, Pontiac borrowed the cylinder heads and camshaft from the previous year's 345-hp Ram Air 400, and added the aluminum intake manifold from the rowdy 370-hp 400 Ram Air IV.
The 455 had less advertised power than the '70 T/A mills, and it couldn't wind as high. But at 8.4:1 compression (compared to 10.5:1 for the retired Ram Air 400s), it could run happily on a wider range of fuels, was less temperamental than the Ram Air IV, and with 480 lb-ft of torque at a usable 3600 rpm, it packed a real wallop around town. Plus, it had four-bolt mains for strength.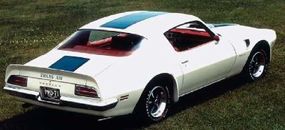 A three-speed replaced the four-speed as the standard gear box; the four-speed (now with a larger clutch) and automatic cost extra. Factory axle ratios were a touch tamer, but a 3.73:1 was still available on cars without air conditioning.
It all made for a Trans Am that was as quick as the best '70 models. Demand for such performance was about to bottom out. But among cars born of the muscle car age, only Trans Am would survive through the dark ages of the late 1970s and 1980s with its reputation intact. Pontiac always found a way.
Return to Classic Muscle Cars Library.