Though its name identified the Oldsmobile Cutlass 4-4-2 as a collection of separate performance parts, no 1966 midsize muscle car had a more unified performance personality. Oldsmobile's interpretation of the modern supercar was quickly gaining a reputation as the best balanced of the bunch.
New sheetmetal and a wider track marked changes to the Cutlass series for '66. The 4-4-2 still was an option on coupes and convertibles, adding just $185 to the price of an F-85 or $151 to a Cutlass. 4-4-2s got a unique grille, taillamps, and front-fender scoops. Bucket seats were standard on Cutlass versions, and sporty round gauges replaced the horizontal-sweep speedometer. A tach cost $52 extra.
Still exclusive to the 4-4-2 was the four-barrel 400-cid V-8. A slight hike in compression kicked horsepower to 350. For another $110, buyers could get Oldsmobile's first factory tri-carb setup since the late 1950s. It boosted output to 360 bhp and cut ETs to the high 14s at 97 mph. Olds had this one sorted out, and transition from the middle carb to the other two was smooth and manageable.
Shifting with the three- and four-speed manuals improved thanks to Hurst linkages, which were newly available from the factory and had both "4-4-2" and "Hurst" embossed on the gear lever.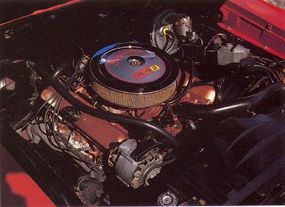 A heavy-duty suspension with standard sway bars front and rear returned, and testers lauded the 4-4-2's road manners, saying it had a softer ride yet better steering and control than the Chevelle SS and GTO. Braking was rated tops as well.
Olds also began fitting in a few tri-power engines with the new W-30 system. It included an air-induction setup with scoops in the front bumper openings and also internal engine modifications.
For most 4-4-2s, the story was abundant power without orneriness, Olds comfort without sloppy handling, and nice equipment without exorbitant prices. "We would be hard put to find another car that does so many things so well," said Motor Trend.
Return to Classic Muscle Cars Library.
For more cool information on muscle cars, see:
No muscle cars were more stylish, sophisticated, or brawnier than those from Oldsmobile. See profiles, photos, and specifications of Oldsmobile muscle cars.

Muscle cars came in many shapes and sizes. Here are features on more than 100 muscle cars, including photos and specifications for each model.
Muscle cars created their own culture. To learn about it, read How Muscle Cars Work.
These muscle car profiles include photos and specifications for each model:
For related car information, go to these articles:
The engine is what gives a muscle car its flamboyant personality. To learn everything you need to know about car engines, see How Car Engines Work.
Muscle cars wouldn't have much muscle without horsepower -- but what exactly is horsepower? How Horsepower Works answers that question.
NASCAR race cars embody the muscle car philosophy of power. Read How NASCAR Race Cars Work to find out what makes these charged-up racers go.

Are you thinking of buying a 2007 muscle car, or any other car? See Consumer Guide Automotive's New-Car Reviews, Prices, and Information.