With the hot new Road Runner anchoring the lower rungs, a familiar name returned to top off Plymouth's midsize muscle car ladder. For its second season in 1968, the Plymouth GTX moved to the same redesigned Belvedere platform used by the Road Runner.
In keeping with its upscale mission, the 1968 Plymouth GTX featured two-door hardtop and convertible body styles; the '68 Road Runner started with a pillared coupe and didn't offer a ragtop.
Instead of adopting the 383-cid V-8 as its base engine, the 1968 Plymouth GTX carried over its '67 powertrains. The 375-bhp Magnum 440-cid four-barrel was standard, with the take-no-prisoners 425-bhp 426 Hemi the sole engine option. TorqueFlite automatic, a $206 extra on the Road Runner, was standard on the GTX, and the four-speed manual was a no-cost alternative. Both cars had similar suspension upgrades and wide-oval rubber; front disc brakes and a limited-slip diff were shared options. Nonfunctional hood vents also were common to both.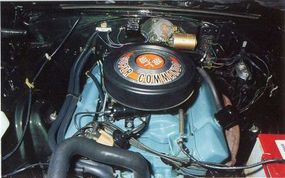 While even a loaded Road Runner looked pretty plain on the outside, the GTX dressed its part with standard chrome wheel-lip moldings, tail-panel brightwork, and double side stripes. And where the Road Runner started with a fleet-grade interior, the GTX came with the well-appointed Sport Satellite cabin featuring shiny details and fake woodgrain. The differences showed in base prices: $3,355 for the GTX hardtop, $3,034 for the Road Runner coupe.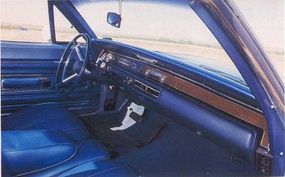 Die-hard racer types loved the Hemi, but just 450 GTXs were ordered with the $564 option. The 440, which wasn't offered on the Road Runner, was easier to keep in tune. And unlike the rev-hungry Hemi, the big wedge churned out a surplus of low-end torque for unparalleled response on the street.
Deficiencies mirrored those of the Road Runner -- and of most other muscle intermediates: stiff ride, over-assisted power steering, and skittish handling on rough roads. But for a gentleman's supercar, the GTX was dialed in.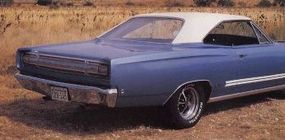 "As a performance car, the GTX has few equals," concluded Car Life. "With the 440 engine, it offers as much performance-per-dollar as anything on the market, and more than most."
Return to Classic Muscle Cars Library.
Plymouth muscle cars spanned the spectrum from fanciful to fearsome -- and sometimes displayed both qualities in a single model. See profiles, photos, and specifications of Plymouth muscle cars.
Muscle cars came in many shapes and sizes. Here are features on more than 100 muscle cars, including photos and specifications for each model.
Muscle cars created their own culture. To learn about it, read How Muscle Cars Work.
These muscle car profiles include photos and specifications for each model:
Cougar pulled out of Mustang's shadow with the striped and spoilered 1969 Mercury Cougar Eliminator.

Beep, beep! Make way for one of the baddest muscle cars of all time, the 1970 Plymouth Road Runner Hemi.
The 1970 Pontiac Firebird Trans Am combined sports-car handling and muscle car power.

The 1964 Ford Thunderbolt was quick as lightning and almost too strong for the street.

An all-aluminum, race-proven V-8 defined the rare and wicked 1969 Chevrolet Camaro ZL1.
The engine is what gives a muscle car its flamboyant personality. To learn everything you need to know about car engines, see How Car Engines Work.
Muscle cars wouldn't have much muscle without horsepower -- but what exactly is horsepower? How Horsepower Works answers that question.
NASCAR race cars embody the muscle car philosophy of power. Read How NASCAR Race Cars Work to find out what makes these charged-up racers go.

Are you thinking of buying a 2007 muscle car, or any other car? See Consumer Guide Automotive's New-Car Reviews, Prices, and Information.