Ford's reign of "Total Performance" was rapidly drawing to a close, but something was still kicking in its muscle car stall: the 1971 Ford Mustang Boss 351.
Based on the redesigned Mustang SportsRoof, the new Boss was built to qualify a Trans-Am counterpart, a purpose rendered moot by Ford's late-1970 retirement from most forms of organized racing. The upside was that the Boss 351 was probably the only 1971 performance car with a genuine competition-grade engine.
Unfortunately, it had to saddle up the biggest Mustang ever. Wheelbase for the 1971 Ford Mustang Boss 351 was up one inch, and the car gained 2.1 inches in overall length, 2.8 inches in width, and put on about 100 pounds. Its styling was influenced by the last of the Shelby models, which didn't survive into '71. That left the Mach 1 and Boss 351 as Mustang's similarly styled performance flag bearers.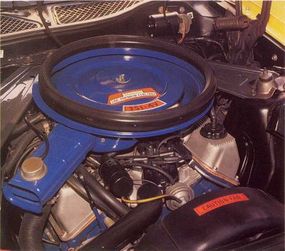 Mach 1's top engine was the 429-cid Super Cobra Jet Ram Air. Its credentials were strong -- 11.3:1 compression, 375 bhp, 450 lb-ft of torque -- but its low-14 second ETs were slower than those of the Boss 351. The Boss had on its side less weight and exclusive use of a thoroughbred 351-cid V-8 that Car and Driver said made the "Z/28 look like a gas mileage motor."
Its rods were shotpeened and Magnafluxed and its heads, drawn from the Boss 302, had staggered valves and huge ports. It had a radical, solid-lifter cam, 11.0:1 compression, a 750-cfm four-barrel, and an honest 330 bhp. Ram-air induction, a Hurst-shifted four-speed, and a 3.91:1 Traction-Lok diff were standard.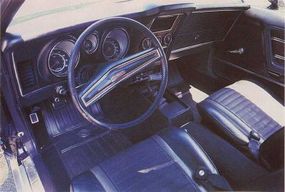 The engine, remarkably tame on the street and a dervish on the track, teamed with a "competition" suspension that used F60Xl5 tires. Ultimate cornering power was high, but the car was ponderous and nowhere near as balanced as a Firebird Trans Am. Moreover, the cave-like cabin was frustratingly difficult to see out of, the ride was harsh, and the gauges and controls were poorly designed.
Mustang had gone from quarter horse to Clydesdale and its best version, Boss 351, lasted just one season. It was a fitting finish to Total Performance.
Return to Classic Muscle Cars Library.