Laugh if you will, but the 1969 AMC Hurst SC/Rambler could blow the doors off some pedigreed muscle cars. Too bad AMC had to compensate for its slim advertising budget by making a billboard of the car.
Having dipped into performance with the '68 AMX and Javelin pony cars, Detroit's No. 4 automaker decided to expand into the budget-muscle arena with -- don't snicker -- a Rambler Rogue compact. Directed by Hurst Performance Research Inc., the project followed the simplest hot-rod canon: stuff in the biggest available V-8. In AMC's case, that was the AMX's 315-hp 390-cid four-barrel. A Borg-Warner four-speed with a Hurst shifter and a 3.54:1 limited-slip completed the drivetrain.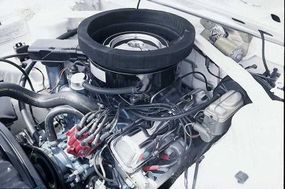 Heavy-duty shocks, anti-sway bar, and anti-hop rear links fortified the suspension. E70Xl4 Polyglas tires and the AMC's optional heavy-duty brakes with front discs were included. Inside were reclining buckets. Instrumentation was standard Rogue with the exception of a Sun 8000-rpm tach strapped to the steering column.
The car debuted midway through the model year as the AMC SC/Rambler-Hurst; most called it the Scrambler. Only 1,512 were built, and they were potent little screamers. But that exterior treatment! No one seemed to like it. A "tri-colored nickelodeon," said Car and Driver.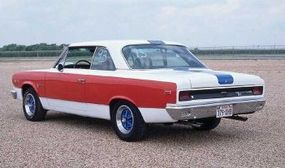 All SC/Ramblers started as appliance-white hardtops with two-tone mags, racing mirrors, blackout grille and tail panel, Hurst badging, and a real ram-air hood scoop with an upthrust snout that unfortunately recalled the nose of a hound sniffing for the scent. About 1,200 Scramblers went full "Yankee Doodle," with broad red bodysides, wild hood graphics, and a fat blue dorsal stripe. The rest made do with only simple rocker-panel striping.
With ETs in the low to mid-l4s, however, some unwary rivals wouldn't have to look at the whole car. "This sort of acceleration," said Road Test, "is going to show the Hurst emblem on the back to a few GTOs, Cobra Jets, Road Runners, and Mach 1s."
Return to Classic Muscle Cars Library.
For more cool information on muscle cars, see:
Even AMC, the champion of the economy car, caught muscle car fever. See profiles, photos, and specifications of AMC muscle cars.
Muscle cars came in many shapes and sizes. Here are features on more than 100 muscle cars, including photos and specifications for each model.
Muscle cars created their own culture. To learn about it, read How Muscle Cars Work.