GM divisions had practiced it for years, but it took the competitive fervor of the muscle car years to spark a sibling rivalry between Dodge and Plymouth. The 1968 Dodge Super Bee carried the colors for Mopar's Scat Pack division.Plymouth had struck first, with the fall-1967 introduction of the budget-muscle 1968 Road Runner. Dodge -- already irked that it had coined the "road runner" name in a '67 Coronet R/T advertisement -- scrambled to respond. Its answer was a bang-for-the-buck stripper based on the redesigned Coronet pillared coupe. The inspiration -- and the drivetrain -- were pure Road Runner. For the name, however, Dodge looked to its Scat Pack symbol and released its new model in the spring of '68 as the Super Bee.
The $3,027 base price was $131 over that of the Road Runner, which used the same basic chassis. Curb weight was nearly identical, so performance was a wash. Base engine for both was the 335-bhp four-barrel 383-cid V-8 that borrowed cylinder heads, camshaft, and induction system from the 440 Magnum V-8.
The 426 Hemi was the only engine option, but at nearly $1,000, it clashed with the Super Bee's budget appeal and only 125 were ordered. A Hurst-shifted four-speed manual was standard, with the three-speed TorqueFlite automatic optional.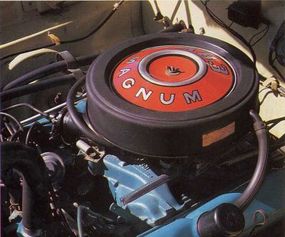 Holding the price meant minimizing amenities, and while Super Bee borrowed the Charger's Rallye gauge layout to edge the Road Runner in instrumentation, a tachometer still cost $38 extra. Heavy-duty suspension and brakes and red-line wide-oval tires were standard, though.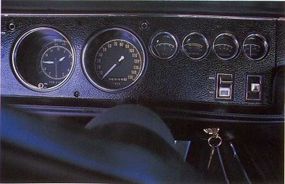 Low priced didn't mean low profile. Bumblebee racing strips circled the tail, and a big Super Bee emblem hovered on the rear fenders. The grille was finished in black matte, and the hood held a decorative power bulge.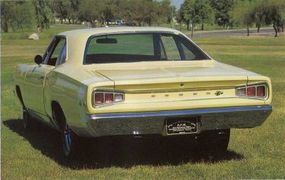 Dodge was proud enough to name names in Super Bee advertising: "It's the super car for the guy who doesn't want to shy away from GTOs...only their high prices." But finishing far behind the Road Runner in sales surely must have stung.
Return to Classic Muscle Cars Library.
Dodge muscle cars were among the fastest and wildest. See profiles, photos, and specifications of Dodge muscle cars.
Muscle cars came in many shapes and sizes. Here are features on more than 100 muscle cars, including photos and specifications for each model.
Muscle cars created their own culture. To learn about it, read How Muscle Cars Work.
These muscle car profiles include photos and specifications for each model:
The engine is what gives a muscle car its flamboyant personality. To learn everything you need to know about car engines, see How Car Engines Work.
Muscle cars wouldn't have much muscle without horsepower -- but what exactly is horsepower? How Horsepower Works answers that question.
NASCAR race cars embody the muscle car philosophy of power. Read How NASCAR Race Cars Work to find out what makes these charged-up racers go.

Are you thinking of buying a 2007 muscle car, or any other car? See Consumer Guide Automotive's New-Car Reviews, Prices, and Information.