Mercury marched lockstep with Ford through much of the age of muscle cars. Sure, it got many of the company's hot engines, but its Cougar never really ran with the wild ponys, and its midsize models were little more than fancy Fairlanes. That changed with the introduction of the marquee's best-ever muscle car, the 1970 Mercury Cyclone Spoiler.
Muscle Car Image Gallery
Here, finally was a body unique from that of the fastback Fords, a Coke-bottle shape with an individualized flavor. The Spoiler was the pure-performance version of the Cyclone GT, and actually came better equipped for battle than its Ford Torino Cobra cousin. Standard in the Mercury was the 370-bhp ram-air 429-cid V-8, an extra-cost upgrade in the Cobra. A Hurst-stirred four-speed with 3.50:1 Traction-Lok gears completed the drivetrain, while a "competition" handling package and G70xl4 tires laced it down.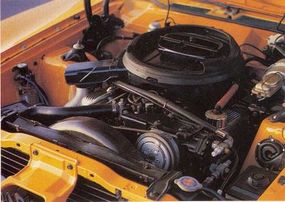 ©2007 Publications International, Ltd. Ford's uplevel 429-cubic inch V-8, which made370 horsepower, was standard in the Cyclone.
As in the Ford, a Select-Shift automatic was optional, and so was the Drag Pack, which emboldened the 429 with solid lifters, stronger internals, and 375 bhp. The Drag Pack included 3.91:1 or 4.30:1 axles, the latter a Detroit Locker. As with the Torino Cobra, the Boss 429 engine was advertised as an early Cyclone Spoiler option, but few, if any, were installed.
Spoiler didn't use a shaker hood, going instead with an integrated functional scoop. A chin spoiler and rear air foil were standard, and while exterior adornment was left to simple tape stripes, six "Grabber" colors (blue, orange, yellow, green, coral, and platinum) were available. Mercury went Ford one better on the inside, providing Cyclones with a standard instrument cluster that included a proper round tachometer, and oil pressure, coolant temperature and amp gauges, all angled toward the driver. Torino made do with idiot lights and a weird horizontal-reading tachometer.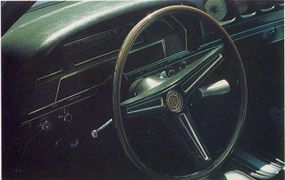 ©2007 Publications International, Ltd. A full complement of gauges, tilted toward the driver,further set apart the Cyclone from its kin.
Befitting a Mercury, the Cyclone Spoiler was a big car. It shared Torino's wheelbase, but at a rangy 209.9 inches, its body was longer than the Ford's by 3.7 inches. And it weighed about 100 pounds more, similarly equipped. But finally, here was something more than a Fairlane facsimile. Here was a real muscle car Mercury.
Return to Classic Muscle Cars Library.
For more cool information on muscle cars, go to:
The phrase Mercury muscle cars was no contradiction in terms; even this staid marquee had a quick-car lineup. See profiles, photos, and specifications of Mercury muscle cars.
Muscle cars came in many shapes and sizes. Here are features on more than 100 muscle cars, including photos and specifications for each model.
Muscle cars created their own culture. To learn about it, read How Muscle Cars Work.
Check out these profiles of muscle cars, which include photos and specifications for each model:
For related car information, see these articles:
The engine is what gives a muscle car its flamboyant personality. To learn everything you need to know about car engines, see How Car Engines Work.
Muscle cars wouldn't have much muscle without horsepower -- but what exactly is horsepower? How Horsepower Works answers that question.
NASCAR race cars embody the muscle car philosophy of power. Read How NASCAR Race Cars Work to find out what makes these charged-up racers go.

Are you thinking of buying a 2007 muscle car, or any other car? See Consumer Guide Automotive's New-Car Reviews, Prices, and Information.