Not all muscle cars had giant V-8s and mimicked straight-line drag racers. Some identified with modest-engine racers built to compete on twisting road courses. The 1970 Plymouth AAR 'Cuda was one of these.
Of course, the production AAR 'Cuda couldn't be mechanically identical to its Trans-Am racing namesake. But unlike the Mustang Boss 302 and Camaro Z28, which also were built to homologate track cars, it didn't even try to mimic the pavement-hugging posture of its competition cousin. What Plymouth built was a street rod.
The AAR 'Cuda took its title from Dan Gurney's All-American Racers, the team that campaigned Barracudas in the Sports Car Club of America's popular competition series. Like the similar racing Dodge Challenger T/As, track AARs ran full-race 440-bhp 305-cid four-barrel V-8s and were lowered
and modified for all-out twisty-course combat.
And like production Challenger T/As built to qualify the cars for racing, street AARs used a 290-bhp 340-cid with three two-barrel Holley carbs on an Edelbrock aluminum manifold. Buyers could choose a four-speed or TorqueFlite, with a Sure-Grip axle and standard 3.55:1 or optional 3.91:1 gears. The engine breathed through a functional hood scoop.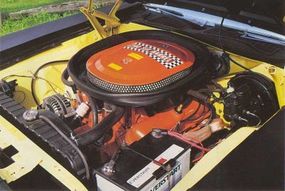 The AAR's interior was basic 'Cuda, but its exterior certainly was not. From a matte-black fiberglass hood, through body-side strobe stripes and tri-colored AAR shield, to the standard black ducktail spoiler, this was an exotic fish. Special shocks and recambered rear springs raised the tail 1 3/4 inches over regular 'Cuda specs, allowing clearance for exhausts pipes that exited in front of the rear wheelwell (after routing through the standard muffler beneath the trunk). It also permitted use of G60xl5 tires in back and E60xl5s in front.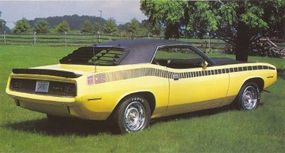 With its raked stance, oversized rear rubber, side-exit exhausts, and loud graphics, an AAR was better suited to a Saturday night at Burger King than a Sunday afternoon at Lime Rock. With a 56-percent front weight bias, handling was plagued by understeer, prompting Car and Driver to suggest "it might have been better to put the fat tires on the front wheels." But the AAR 'Cuda was strong in a straight line, and an eyeful anywhere. Just like a good street rod.
Return to Classic Muscle Cars Library.