Just as it had with the Road Runner in 1968, Plymouth hit a muscle car home run in 1970 with the budget-priced Duster 340. The formula for the 1970 Plymouth Duster 340 was familiar. Take a cheap-to-produce platform, in this case a Valiant wearing a new fastback body, and treat it to a hot engine, here Mopar's respected 340-cid four-barrel V-8.
The determined little Duster was lighter, roomier, and faster than the 340 'Cuda. With a base price of just $2,547, it was the lowest-priced car in Plymouth's Rapid Transit System. And it was the only one with front disc brakes standard.
The 340 V-8 had proven itself over preceding years, propelling a series of giant-killer Darts and earlier-generation Barracudas to mid-14-second ETs at near 100 mph. It used a Carter AVS four-barrel and camshaft timing only slightly less radical than that of the mighty 440 Six Pack. It was rated at 275 bhp, but practiced observers insisted it actually made closer to 325 bhp.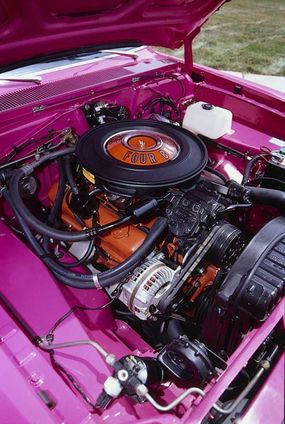 ©2007 Publications International, Ltd. The 340-cubic-inch engine made close to 325 horsepower, and the Dustercame with an array of performance enhancers.
In the Duster, the engine came with a heavy-duty three-speed manual or a choice of optional four-speed or TorqueFlite. A 3.23:1 axle was standard; 3.55:1 and 3.91:1 gears, plus a Sure-Grip limited-slip diff, were available at extra cost.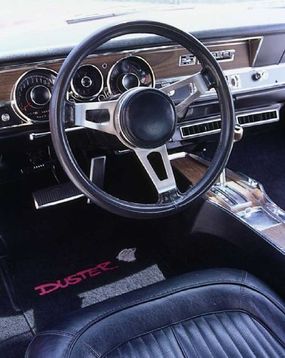 ©2007 Publications International, Ltd. Bucket seats with a center console and floor shifterwere optional in the 1970 Plymouth Duster 340.
Since it was a member of the Rapid Transit System, the Duster 340 was treated to an array of performance enhancers, including heavy-duty underpinnings, front stabilizer bar, and six-leaf rear springs. Standard tires were E70xl4s on 5.5-inch rally wheels. It borrowed the instrument panel from the earlier-series Barracuda, and bucket seats and a center console with floor shift could be ordered in place of the front bench.
A pistol-grip for the four-speed, an 8000-rpm tach, and power steering were attractive extra-cost items. No scoops were offered, and the only hot-car cues were dual exhausts and modest decals.
©2007 Publications International, Ltd. The ride and cornering may have been a bit rough in the1970 Plymouth Duster 340, but buyerson a budget were willing to make the sacrifice.
The stiff, slightly lowered suspension made for a punishing ride and didn't prevent the car's nose from plowing through fast corners. And with the cut-rate price came some obviously low-budget trim. But the Duster 340 was a reasonably fast muscle car, it was utilitarian, it was a bit of a sleeper, and it had character. Sounds like a home run!
Return to Classic Muscle Cars Library.
For more cool information on muscle cars, go to:
Plymouth muscle cars spanned the spectrum from fanciful to fearsome -- and sometimes displayed both qualities in a single model. See profiles, photos, and specifications of Plymouth muscle cars.
Muscle cars came in many shapes and sizes. Here are features on more than 100 muscle cars, including photos and specifications for each model.
Muscle cars created their own culture. To learn about it, read How Muscle Cars Work.
Check out these profiles of muscle cars, which include photos and specifications for each model:
For related car information, see these articles:
The engine is what gives a muscle car its flamboyant personality. To learn everything you need to know about car engines, see How Car Engines Work.
Muscle cars wouldn't have much muscle without horsepower -- but what exactly is horsepower? How Horsepower Works answers that question.
NASCAR race cars embody the muscle car philosophy of power. Read How NASCAR Race Cars Work to find out what makes these charged-up racers go.

Are you thinking of buying a 2007 muscle car, or any other car? See Consumer Guide Automotive's New-Car Reviews, Prices, and Information.